Laser Engraver/Plate Maker facilitates pad printing process.
Press Release Summary: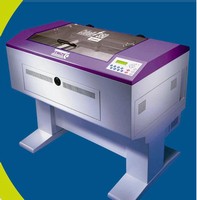 Using CO
2
laser technology and Imperial Printing Plates, Cobalt 350 plate making and engraving system produces high resolution pad printing plates directly from computer without use of film positives. XY motion of laser print head enables etching of images up to 25 x 18 in. Unit measures 44.3 x 28.3 x 39.6 in., and comes in Class 3R enclosure with interlocked safety switch. Product also features up to 42 ips speed settings and adjustable power and frequency.
---
Original Press Release:

Cobalt 350, New Computer-to-Plate Laser and Pad Printing Plate Maker



New Cobalt CO2 laser model - for larger images

Inkcups Now introduces the breakthrough Cobalt 350 plate making and engraving system - the big brother of the enormously successful Cobalt 250 computer to plate laser. The Cobalt 350 uses CO2 laser technology and specially designed Imperial Printing Plates (Patent Pending) to produce high resolution pad printing plates directly from the computer, without the use of film positives.

The Cobalt 350 is an extremely simple and powerful system to operate. Just add the Cobalt software to your standard PC and begin "printing" images to the Cobalt 350 laser. Within minutes you can etch high resolution pad printing plates without the use of chemicals, films or concern about depth control. The XY motion of the laser print head enables etching of very large images, (up to 25" x 18") making the Cobalt 350 a highly flexible machine for engraving both Imperial printing plates and promotional products.

The Cobalt 350 laser engraver and plate maker eliminates many inconsistencies in the pad printing process while at the same time offering dramatic quality, efficiency and process improvements over existing plate technologies.

SYSTEM SPECIFICATIONS
o 12 or 25 watt CO2 laser, air cooled
o 635mm x 458mm (25" X 18") marking area
o Red aiming diode
o Automatic Z axis focus
o Cobalt 350 Software package
o Adjustable power, frequency
o Adjustable speed settings (up to 42 IPS)
o DC servo driven XY axis
o Class 3R enclosure with interlocked safety switch
o Computer interface: print port & serial port for PC
o Current: 10 Amps / Voltage: 110V
o Machine dimensions: 44.3"W x 28.3"L x 39.6"H

PROCESS IMPROVEMENTS
o Improved print quality: laser plates are 1st generation so there is no loss of resolution due to film
o Etched Imperial laser plates are 100% repeatable
o Improved ink lay down: laser engraved plates have a straight walled etching and more precise inkwell profile than polymer plates

DIRECT COST SAVINGS
o Eliminate film costs
o Eliminate chemical costs: image-setter fixer, developer, and plate toner cartridges
o Eliminate maintenance contracts for image-setter and processor
o Eliminate hazardous waste stream and supply shipping costs

TIME AND EFFICIENCY SAVINGS
o Reduce plate making time: 1-2 minutes for an Imperial laser plate vs. 15 minutes for a polymer plate
o Eliminate bad plates - total depth control gives consistent plates every time
o Lower machine downtime: more reliable plates allow pad printing machines to run with fewer interruptions

Links:
www.inkcups.com/equipment/laser-engravers-and-plate-makers/cobalt-250-laser-etcher/Default.aspx

www.inkcups.com/dotNet/pages/2f_equipment_cobalt_350.aspx
www.inkcups.com/dotNet/pad-printing/computer-to-plate-printing.aspx

Mike Bissel
Title: Director of Sales
E-mail: makeb@inkcupsnow.com

More from Electronic Components & Devices