Laser-Discharge Ceramic Capacitors are suited for gas lasers.
Press Release Summary: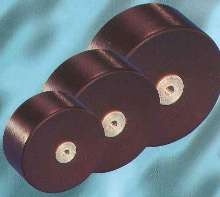 Designed for circuits with high peak current and repetition rates, laser discharge ceramic capacitors use strontium-titanate based dielectric material, which exhibits negligible piezoelectric/electrostrictive effect. This allows capacitors to be used in high peak current/high shot life applications. Products offer low dielectric loss, resulting in low self-heating. High breakdown strength/permittivity of material allows for storage of high energy density per unit volume.
---
Original Press Release:

Morgan Electro Ceramics Offers High Voltage Laser Discharge Ceramic Capacitors


Designed for circuits with high peak current and repetition rates

Morgan Electro Ceramics (MEC), a leading manufacturer of electro ceramic material solutions, including high voltage and RF capacitors, microwave ceramics and piezoelectric ceramics, offer high voltage laser discharge ceramic capacitors. MEC's laser discharge capacitors provide superior functionality in circuits with high peak current and repetition rates, making them ideal for gas lasers, high energy pulsed power supplies, DC power supplies, lightning arrestors and X-ray power supplies.

MEC's laser discharge ceramic capacitor product range uses a strontium-titanate based dielectric material, which exhibits a negligible piezoelectric / electrostrictive effect. This allows the capacitors to be used in high peak current / high shot life applications, including those found in gas lasers and other high energy pulsed power systems.

MEC's laser discharge capacitors offer low dielectric loss resulting in low self-heating when used in high power / high repetition rate circuits. Additionally, the high breakdown strength / high permittivity of the material allows for storage of high energy density per unit volume. This high energy density is maintained over the rated working voltage and temperature range by the dielectric's low capacitance / voltage coefficient and low temperature coefficient.

About Morgan Electro Ceramics

Morgan Electro Ceramics (MEC) has a comprehensive range of piezoelectric and dielectric materials from which many products are manufactured, including transducers, sensors, actuators and high voltage & RF capacitors. MEC has established an enviable reputation for providing value-added solutions through world-class research and development, innovative design and, perhaps most important of all, application engineering.

As a subsidiary of The Morgan Crucible Company, MEC forms part of the Morgan Technical Ceramics Group. The Group includes Morgan Advanced Ceramics and from manufacturing locations in North America, Europe and Asia, it supplies an extensive range of products, including ceramic components, braze alloys, ceramic/metal assemblies and engineered coatings.

For more information on Morgan Electro Ceramics visit www.morganelectroceramics.com or contact one of our sales offices below:

UK & Eire

Morgan Electro Ceramics Ltd, Vauxhall Industrial Estate, Ruabon, Wrexham, LL14 6HY

Tel: +44 (0) 1978 810456; Fax: +44 (0) 1978 824303

Morgan Electro Ceramics Ltd, Bursledon Road, Thornill, Southampton, SO19 7TG

Tel: +44 (0) 2380 444811; Fax: +44 (0) 2380 431768

Mainland Europe

Morgan Electro Ceramics BV, Zwaanstraat 2a, Bld RAH-1, 5651 CA Eindhoven, The Netherlands; Tel: +31 4027 88864; Fax: +31 4027 84324

North America

Morgan Electro Ceramics Inc, 232 Forbes Road, Bedford, Ohio 44146 5418, USA

Tel: +1 440 232 8600; Fax: +1 440 232 8731

More from Packaging Products & Equipment