Laser Diode Drivers control complete laser systems.
Press Release Summary: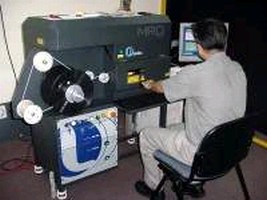 Offered in Q-CW model for pulsing currents and CW model for direct currents, computer controlled LYDYA(TM) Drivers are able to control diodes, diode bars, and stacks. LYDYA shunt diodes safety system connects to diode terminals to short-circuit them when they are not being used or are not connected to driver, and protects them from reverse currents and transient effects. Drivers integrate programmable current start-up ramp, and protect laser diodes from current overshoots.
---
Original Press Release:

Laselec's Laser Diode Driver, LYDYA, Drives Complete Laser Systems



Chicago, April 6, 2006 (word count: 496)

LASELEC is the world leader in designing and manufacturing cable-marking machines and is also a specialist in the design and manufacture of electronic components for laser systems. The company produces LYDYA(TM) laser diode drivers able to control complete industrial laser systems, such as those used in the company's cable-marking machines and for other industrial applications.

The drivers all have the qualities and functionalities that enable them to control laser diodes entirely in safety while providing them with the longest possible service life. Particularly appreciated by research laboratories and OEMs, they generate savings in regard to costly software and hardware development. LYDYA(TM) laser diode drivers Q-CW, for pulsing currents, and CW, for direct currents, are able to control diodes, diode bars and stacks, and their power varies from a few watts to several kilowatts. The company supplements its product range with a laser diode integration service making it possible to obtain a complete fiber-coupled laser diode.

Another strong point is that all drivers are completely computer-controlled, managing a complete laser system enclosed in a single device (cooling system, user safety, Q-switch triggering, optical power measurement, etc.). They offer an exclusive protection system: the "LYDYA(TM) shunt diodes." This system connects to the diode terminals to short-circuit them when they are not being used or are not connected to the driver, and protects them from reverse currents and transient effects.

LYDYA(TM) drivers integrate a programmable current start-up ramp, and protect laser diodes from current overshoots with a high-power circuit for precise, adjustable regulation. A temperature controller with a "temperaturized" ramp can also be embedded as an optional feature. This system enables the temperature of the diodes to be regulated as they are operating and protects them against temperature spikes.

LASELEC's primary objective is to offer its customers machines guaranteeing the highest productivity rates at the most advantageous costs, as well as an after-sales service and flawless maintenance throughout the world. The company will be at the RayForm 2006 trade show in Moscow from March 28 to 31 at the "Eurolase" booth, number 8.1, in Hall 2.

For further information, please contact:
LASELEC INC
Jerome Fritsch
Director of Operations
2012 E. Randol Mill Rd.
Suite 210
Arlington, TX 76011
Tel: (817) 460-7830
Fax: (817) 460-7844
E-mail : jerome.fritsch@laselec.com
Web site: www.laselec.com

Related