Laser Devices, Inc. Announces the 2nd Generation Operative Pocket-Sized Tactical Light, the OV-2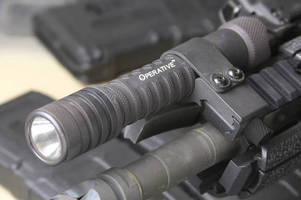 Monterey, Calif. - January 1, 2010 - Laser Devices, Inc. announces the second generation OPERATIVE Tactical Light, the Model OV-2.

The OPERATIVE® series of tactical lights are compact and lightweight, yet powerful and precise with the versatility you need to face any situation. These pocket-sized flashlights pack the power of larger full-size flashlights at a fraction of their size and weight.

The NEW OV-2 carbine system has a modular design to meet the wide variety of today's battlefield needs. Interchangeable On/Off/Momentary push button or remote cable pressure pad switching options, and the low profile MIL-SPEC-1913 offset mount provide flexibility in mounting and activation options. The OV-2 is available with either an incandescent lamp (95 lumens) or a high intensity LED (150 lumens) in Black, Desert Sand and Foliage Green.

About Laser Devices, Inc.

Laser Devices, Inc. (LDI) is a manufacturer of laser aiming devices and tactical lights for firearms. Founded in 1979, LDI is known for its expertise in the design and manufacture of state-of-the-art visible and infrared laser-based aiming devices and small arms training systems used by law enforcement and military agencies worldwide. The company maintains an ISO 9001:2008 Certified QMS. LDI holds a number of U.S. patents for its aiming lasers and tactical lights, and is located in Monterey, California, USA.


More from Machinery & Machining Tools