Laser Cutting System is designed to process heavy tubes.
Press Release Summary: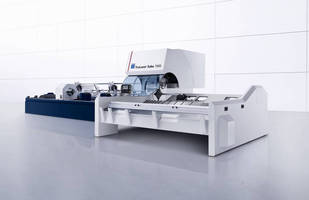 Featuring heavy-duty drives, TruLaser tube 7000 machine can cut tubes and profiles with large diameters and wall thicknesses without sacrificing productivity. It is able to process tubes up to 30 ft long and can handle maximum weight of 496 lb. System has 0.6-10 in. clamping range and is available with up to 3.6 kW of laser power. FocusLine functionality automatically adapts laser focal position to material type and thickness.
---
Original Press Release:

TRUMPF's New TruLaser Tube 7000 Tube Cutting System Paves the Way to New Fields of Application



FARMINGTON, Conn., June 30, 2009 - A tube inside a tube. That might be your initial reaction when you see the new TruLaser Tube 7000 in action. This laser cutting system processes tubes inside a tunnel-like safety enclosure and then, depending on size, moves them
forward to the brush table or ejects them to a parts container behind the machine. With this high-end modern designed machine, TRUMPF offers a laser cutting system featuring heavy-duty drives engineered for heavy tubes, a broad chucking range and a high degree of flexibility.

This new machine can cut tubes and profiles with large diameters and wall thicknesses without sacrificing productivity. It is able to process tubes up to 30 feet long and can handle a maximum weight of 496 pounds. The system's 0.6 to 10 inch clamping range enables new applications. Available with up to 3.6 kilowatts of laser power, it is ideal for a wide range of applications.

Compared with conventional processes like sawing, drilling or milling, selecting a TruLaser Tube 7000 machine can boost productivity significantly. One example of a productivity enhancement is the short set-up time when changing programs. Nearly all of the adjustments depend on profile specifics. Values that have to be entered at the
machine and the loading unit can easily be handled by the parts program. The self-centering chucking jaws do not need to be changed and the rollers that provide support and lateral guidance for the tubing automatically adjust to the diameter. Even the integrated scrap container in the feed station is emptied without operator intervention.

The FocusLine function automatically adapts the laser focal position to the material type and thickness. The machine's software independently adjusts to the focus parameters given in the technology table, eliminating any set-up effort. Also new is the slender cutting head with a 6 inch lens and new style clutch, designed for flexibility and process safety.

When combined with the LoadMaster Tube, featuring a tube magazine that can hold up to 8000 pounds of raw material, the TruLaser Tube 7000 can be fully automated. Its pivoting feed support holds a number of tubes and keeps them at constant orientation. The loading unit performs a feasibility test to compare the tube geometry with the parts program. Special profiles and small batches can be fed by a conveyor
section. The LoadMaster Tube measures the pipe length and adjusts the position of the grippers accordingly.

The TruLaser Tube 7000 works with a new version of TruTops Tube software to make sophisticated processing strategies available. This software is built around a database that contains all of TRUMPF's technical knowledge. With this new software, complex tube designs can be fabricated more easily, precisely and reliably. It is now possible, for example, to position one 3D tube on another instead of designing
and programming individual tubes. This saves time since parameters such as length, width, height, wall thickness and spacing between cut-outs can readily be modified to generate any number of variations.

TRUMPF is one of the world's largest producers of fabricating machinery and a world market leader in lasers used for industrial production technology. Additional company information is available at: www.us.trumpf.com.

TRUMPF Inc.
Public Relations
Farmington Industrial Park
Farmington, CT 06032
Melanie McMillan
860-255-6112
Fax: 860-255-6424
Melanie.McMillan@us.trumpf.com

Related