Laser Cutting System handles 5 x 10 ft sheets in 3 dimensions.
Press Release Summary: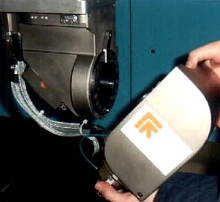 6-axis Domino 1530 machine tool provides 2 and 3-dimensional cuts with CO2 lasers rated 2,500 W to 4,000 W. It works in X and Y horizontal axes and Z vertical axis, and rotates horizontally and vertically. Its sixth F-axis allows programming of laser's focal length to automatically adapt to range of ferrous and non-ferrous materials of different thickness. Operator no longer needs to make manual adjustments, allowing automatic operations.
---
Original Press Release:
New Domino 2-D + 3-D Laser Cutting System From Laserdyne Prima

Domino multi-axis laser systems from Laserdyne Prima give users the flexibility of two and three-dimensional cutting within a single, cost-effective machine. And the new Domino model #1530 can process 5' X 10' sheets in a single setup, making it ideal for contract fabricators who must respond to varied customer needs quickly. Available C02 lasers range from 2,500W to 4,000W.

Domino 1530 is a six-axis laser machine tool. Precision ground ball screws drive the horizontal, linear X and Y-axes and their position is measured by high-resolution encoders to achieve volumetric accuracy. Unlike flat sheet cutters, however, Domino also offers a generous Z-axis range of 14". This machine also incorporates 360° horizontal and ± 1350 vertical rotational axes for continuous cutting of complex 3-D parts within the machine volume.

For optimum cutting performance, Domino features a sixth CNC axis, the F-axis. This allows programming of the laser's focal length to automatically adapt to a range of ferrous and non-ferrous materials of different thickness. The operator no longer needs to make manual adjustments to the setup or assist gas supply, essential for unattended runs. The F-axis capability PRI-080 Domino Model 1530, compensates for beam divergence over full travel and compliments a capacitance sensor that maintains constant standoff from the part surface.

An important part of multi-axis cutting is protection of the working head as it moves around the workpiece and part locators. Domino machines offer a newly developed breakaway system that incorporates a coupling with permanent magnets for retention, plus guide pins for repeatable alignment. In the event of obstruction, the head releases but remains suspended on springs while the machine executes an emergency stop. Re-start of the system only requires moving to a safe area, re-coupling the head (without re-alignment), setting zeroes and returning to the part program.

Also key with multi-axis lasers is operator safety. Domino's integrated safety cabin fully encloses the work area, trapping fumes and controlling laser light to safe levels. This provides a CDRH Class I operating environment as standard. The cabin's telescoping design still allows easy operator accessibility for part loading and removal.

Domino machines are built with a monolithic base structure, which contains the laser source and X-axis guide for the moving structure. This design makes installation quick and easy, since no special foundation is required and there are a minimum number of components to assemble. It also makes Domino compatible with work-handling options from shuttle tables up to fully automated cells.

Laserdyne Prima was formed in April, 2001 through acquisition of the Laserdyne Division of GSI Lumonics by Prima U. S., Inc., the North American subsidiary of Prima Industrie S.p.A., Turin, Italy. Prima, achieving a 25% compound growth rate in Europe, selected Laserdyne to be their new headquarters in North America, taking advantage of their twenty years experience in engineering, manufacturing and supporting laser processing systems.

Related