Laser Cutting System cuts tubes without deforming.
Press Release Summary: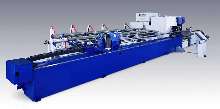 TUBEMATIC RC automatically processes thin-walled tubes, delivered from bundle magazine, measuring up to 21 ft (standard) or 31 ft in length. Laser offers wear-free machining and produces clean, smooth, and burr-free cut edges. Optional catcher unit removes spatter and fumes given off during cutting process. System is suitable for production of stainless steel tubes, end tube preparation for tube-to-tube multi-angled joining, as well as holes and through-type inserts.
---
Original Press Release:

TUBEMATIC RC Round Tube Processing System Now Available in North America


FARMINGTON, Conn., February 6, 2003 -- The new TUBEMATIC RC laser cutting system from TRUMPF cuts thin-walled tubes that require a clean cut without deformation. This new development is closely related to the TUBEMATIC, which has been successfully employed in the tube and profile processing industry for years. The letters RC - for Round Cut - indicate the special design of the machine as a tube processing system for round pipes only. The main criteria in developing this system were laser-related part quality benefits and labor-saving production.

Laser cutting, which at first may appear more costly than other processes, such as sawing, has many distinct advantages that reduce overall manufacturing costs. Primary advantages include the elimination of secondary operations and dramatic reduction in weld setup time. Tubes of up to twenty-one feet (standard) or up to thirty-one feet in length can be automatically processed on the TUBEMATIC RC when delivered from a bundle magazine.

Laser enables complete processing
Free from any contact or forces at the processing area, laser cutting opens up new possibilities in the production of round tube sections. The laser's precision and fast cutting speeds form the basis of the machine's high productivity. Even thin-walled tubes can be processed without deformation. The laser offers wear-free machining and total flexibility. Set-up times are virtually eliminated, while first article revisions, if any, are done in minutes. Laser cutting produces clean, smooth and virtually burr free cut edges.

Optional features offer the TUBEMATIC RC even more capability. End tube preparation for tube-to-tube multi-angled joining, as well as holes and through-type inserts, are easily accomplished.

Stainless steel tubes are cut to the highest quality standards
The process reliability of laser cutting combined with the proven reliability of TRUMPF TLF series CO2 lasers ensure the system's all-round productivity. TRUMPF TLF lasers are characterized by excellent beam quality, low operating costs and low maintenance demands.

Another highlight of the TUBEMATIC RC is the optional catcher unit, which removes both spatter and fumes given off during the cutting process. The catcher unit also allows the laser to be used at full power for maximum cut speeds when cutting tubes, without loss of quality.

Typical cutting tasks for the TUBEMATIC RC include the production of tube sections from high-quality round tubes, especially thin-walled stainless steel tubes, where optimal cutting quality is important. The TUBEMATIC RC not only establishes new quality standards for cutting stainless steel tubes, but also sets new productivity targets.

The TUBEMATIC RC represents a significant expansion of the TRUMPF Group's portfolio of products for tube and profile processing. An alternative to conventional cutting processes is now available for fast, spatter- and deformation-free cutting of round tubes. The TUBEMATIC RC laser cutting center is a cost-effective, flexible solution for all tube cutting and drilling jobs.

TRUMPF is one of the world's largest producers of fabricating machinery and a world market leader in lasers used for industrial production technology. Additional company information is available at: www.us.trumpf.com

More from Architectural & Civil Engineering Products