Laser Cutting Machine increases productivity via feature set.
Press Release Summary: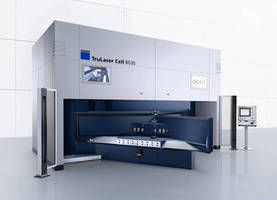 With modular design that enables flexible configurations, second generation TruLaser Cell 8030 is designed for laser cutting hot stamped 3D components. Multi-axis machine employs dynamic rotational changer and rotary indexing table, which features up to 3 workstations, to promote productivity. Facilitating semi-automated solutions, areas for loading/unloading are completely separate from each other. Choice of lasers up to 4 kW are supported to accommodate various applications.
---
Original Press Release:

TruLaser Cell 8030 - Now Even Better



FARMINGTON, Conn. – TRUMPF has released the second generation TruLaser Cell 8030, a multi-axis machine designed specifically for laser cutting hot stamped 3D components. Based on experience gained with the first generation, TRUMPF has significantly enhanced the machine's performance. The new TruLaser Cell 8030 is more productive and energy-efficient than its predecessor, has lower investment costs and features a modular design for flexible configurations.



The machine's increased productivity is primarily due to its highly dynamic rotational changer and new rotary indexing table, which features up to three workstations. The areas for loading and unloading are completely separate from each other, facilitating semi-automated solutions and increased productivity. Loading/unloading can be done with two people, or a single person can load the machine while a robot unloads the system. Either solution can be achieved while the system is actively processing a part inside of the machine.



Since not all cuts require the same laser power, TRUMPF enables fabricators to select the best laser for the TruLaser Cell 8030 based on their application. The new TruDisk 2000, a 2-kilowatt solid-state laser, offers high energy efficiency and excellent beam quality for fast, cost-efficient processing. It is the ideal laser for highly complex part processing. For applications requiring higher laser power, for example, when producing long cuts in larger parts, the new machine can be equipped with up to 4-kilowatts of laser power.



TRUMPF has also improved the process reliability and stability of the TruLaser Cell 8030 with new functions such as ObserveLine for visual slug detection. Using extremely fast and dependable sensors in conjunction with the laser beam, detection occurs twice as fast as with any other system currently available on the market. A residual runtime display, built into the front of the machine, is another new feature. This display visually indicates how much processing time remains for the current component and provides additional information about the status of production to keep operators aware of the production cycle and managers current on the production status.



The TruLaser Cell 8030 also features a compact footprint. Since the electrical control units are built into the body of the machine, the system can be quickly and easily integrated into existing production environments. TRUMPF has reduced installation costs for the new TruLaser Cell 8030: whereas the old system required three supply cables to the machine, the optional centralized power supply now requires only one.



About TRUMPF

TRUMPF is the world market and technology leader in fabricating machinery and industrial lasers for flexible sheet metal processing. Products manufactured with the company's technology can be found in almost every sector of industry. TRUMPF Inc. is the largest subsidiary of the TRUMPF Group and is dedicated to serving the U.S., Canadian and Mexican markets. Additional company information is available at: www.us.trumpf.com.



Press contact:

Susan Grohs

Public Relations & Media Representative

860-255-6104

Susan.Grohs@us.TRUMPF.com



TRUMPF Inc.

Farmington Industrial Park

111 Hyde Rd.

Farmington, CT. 06032

More from Agricultural & Farming Products