Plasma / Flame / Laser Cutters and Cutting Machinery
Laser Cutting Machine achieves acceleration rates to 1.5 G.
Press Release Summary: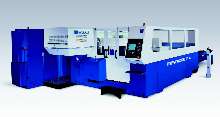 High-speed, 5 x 10 ft, TC L 3030 Plus utilizes small, independently operating axis for fast acceleration and deceleration rates. Software automatically evaluates geometry of each part and determines most efficient way to process job. Laser is available in 2,000, 2,700, 3,200, or 4,000 W, depending on materials to be cut. Quick-change cutting heads and materials database allow user to switch from thin sheet to thick plate in seconds.
---
Original Press Release:

New High-Speed 5-by-10-Foot Laser Cutting Machine


FARMINGTON Conn., June 28, 2004 -- TRUMPF Inc. will introduce a new high-speed 5-by-10-foot flatsheet laser cutter, the TC L 3030 Plus during the FABTECH 2004 trade show in Cleveland, Ohio. Innovative Plus axis technology integrated into the TC L 3030 Plus allows the laser cutting machine to achieve rapid acceleration rates (up to 1.5 g), which improve overall laser cutting productivity.

"The Plus technology has already proven successful at boosting productivity on TRUMPF's smaller, 4-by-8-foot TC L 2530 Plus laser cutting machine," says Dan Robinson, laser product group manager for TRUMPF Inc. "Now this same high-speed technology is available on the larger TC L 3030 Plus."

The light weight of the Plus high-speed axis, a small, independently operating axis, allows the laser cutting head to accelerate and decelerate faster. These rapid acceleration rates provide quicker positioning within a 1-by-5-foot area, which improves cycle time and increases productivity. Acceleration rates on the TC L 3030 Plus can be as fast as 1.5 g and part cycle times can be reduced by nearly 20 to 30 percent for typical parts in up to 1/8-inch thick material.

Software included in the easy-to-use control automatically evaluates the geometry of each part and determines the most efficient way to process the job. Explains Robinson, "the 12-inch working range (stroke) of the new high-speed axis provides the best results in terms of performance versus cost."

The TC L 3030 Plus comes equipped with a laser resonator featuring TRUMPF's hallmark "frictionless turbine," a wear-free, maintenance-free compressor. The laser is available in power levels of 2,000 watts, 2,700 watts, 3,200 watts or 4,000 watts, depending on the materials to be cut.

Additionally, the new TC L 3030 Plus machine combines the benefits of the Plus high-speed axis with the other speed, flexibility and accuracy advantages of the original TC L 3030. For example, TRUMPF standard quick-change cutting heads and extensive materials database allow the user to switch from thin sheet to thick plate in a matter of seconds.

In addition, Nitrojet high-pressure cutting and APC (Advanced Process Control) allow thin sheet processing at speeds in excess of 1,000 inches per minute. "TRUMPF's patented Sprintlas® on-the-fly piercing has also yielded considerable improvements in the thin sheet range: a time savings of up to 50 percent can be achieved on parts with closely spaced contours," says Robinson.

For thick plate processing, the TC L 3030 Plus combines a number of features that ensure fast, clean and consistent cutting. These features include the new Pierce Control System, Autolas plus programmable focus control, 7.5-inch cutting head, and Plasma Sensing System.

All TC L 3030 Plus machines incorporate an easy-to-use PC controller and are fully network-able. The control runs on a Windows NT platform, enabling easy networking and telediagnostics. It has an activity-oriented user interface as well as online help. ToPs 100 lite programming software is also integrated into the control.

The TC L 3030 Plus laser cutting machine comes with a standard pallet changer and is available with a number of advanced automation options.

For more information on the TC L 3030 Plus laser cutting machine please contact Dan Robinson, laser product group manager for TRUMPF Inc. at 860-255-6055 or dan.robinson@us.trumpf.com

More from Fasteners & Hardware