Laser Beam Expanders feature variable magnification.
Press Release Summary: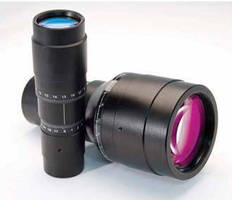 Zoom Beam Expanders are designed for Nd: YAG laser sources, providing variable magnification of 1-3x and 2-8x with adjustable focus to correct for laser beam divergence. Antireflective coating can be customized for various wavelengths. Devices are available for 1,064 nm lasers in both 1-3x and 2-8x models, with Output Clear Apertures of 20, 30, 38, and 60 mm; and in 532 nm models with magnification of 1-3x with aperture of 20 mm and, as with 355 nm models, 2-8x with apertures of 30 and 60 mm.
---
Original Press Release:

Edmund Optics® Introduces Zoom Beam Expanders



Variable magnification of 1-3X and 2-8X corrects for laser beam divergence

June 25, 2009, Barrington, N. J. - Edmund Optics (EO), the premier provider of optical components, introduced their new Zoom Beam Expander. The compact Zoom Beam Expander is designed primarily for Nd: YAG (1064 nm, 532 nm and 355 nm) and 800 nm laser sources. It provides variable magnification of 1-3X and 2-8X with adjustable focus to correct for laser beam divergence.

Ideal for high power laser applications

Edmund Optics' Zoom Beam Expanders are designed and tested for high power laser applications at a specified wavelength. Damage threshold rated for high power lasers, they are ideal for materials processing applications. The Anti-reflective coating can be customized for a variety of wavelengths.

Zoom feature provides system flexibility

The zoom feature allows the user to change beam expansion powers (the size of the output beam relative to the input beam). This is ideal for system integrators using multiple laser vendors with a fixed optical train platform. Using the zoom feature, the user may adjust the laser beam size to optimize system performance without holding a large inventory of various fixed beam expanders, saving time and money, as it allows system flexibility in both research and industrial settings.

Numerous Magnification/Output Clear Apertures available at a variety of wavelengths

The zoom assembly features fine thread for smooth rotation. Edmund Optics' Zoom Beam Expanders are available for 1064 nm lasers in both 1-3X and 2-8X models, with Output Clear Apertures of 20 mm, 30 mm, 38 mm and 60 mm. The 800 nm model has a variable magnification of 2-8X and an Output Clear Aperture of 30 mm. Models for 532 nm are available with variable magnification of 1-3X with an Output Clear Aperture of 20 mm and with variable magnification of 2-8X with Output Clear Apertures of 30 mm and 60 mm. The 355 nm models with variable magnification of 2-8X are available with Output Clear Apertures of 30 mm or 60 mm. Edmund Optics' Zoom Beam Expanders are in-stock and available for immediate delivery.

About EO:

Edmund Optics® (EO) is a leading producer of optics, imaging, and photonics technology for R&D, electronics, semiconductor, pharmaceutical, biomedical, and military markets around the globe. EO is the world's largest supplier of off-the-shelf optical components. Customers can purchase items by contacting EO at 1-800-363-1992, via the new interactive catalog, the website at www.edmundoptics.com, or requesting their print catalog.

Company Contact:

Marisa Edmund

Vice President, Marketing

Edmund Optics, Inc.

101 East Gloucester Pike

Barrington, NJ 08007 U.S.A.

Phone: 1-800-363-1992

Fax: 1-856-573-6295

email: medmund@edmundoptics.com

More from Explosives, Armaments, and Weaponry