Laser-Based Food Sorter depends upon fluorescence sensing.
Press Release Summary: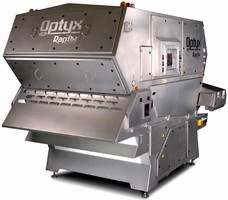 Optyx FluoRaptor(TM) detects and removes defects, extraneous vegetable matter, and foreign material based on chlorophyll level, color, size, and shape. Components include laser protected by Class 1 laser enclosure and tri-chromatic cameras that can be configured to sense visible color and IR light. Sorter eliminates mechanical part change-over with product setting recall capabilities, and laser image is displayed in full color to facilitate operator decision.
---
Original Press Release:

Key Technology Introduces FluoRaptor(TM)



New Fluorescence-Sensing Laser Sorter Detects Chlorophyll Levels

April 27, 2007 - Key Technology introduces FluoRaptor(TM), the new fluorescence-sensing laser sorter designed to maximize the detection and removal of defects, extraneous vegetable matter (EVM), and foreign material (FM) based on differing levels of chlorophyll as well as color, size, and shape. Using the most powerful laser in the food industry in combination with Key's proprietary color cameras, FluoRaptor achieves superior product quality and speeds product changeover for processors of fresh cut products and a variety of fresh and frozen vegetables and potato products.

Featuring a new high-power laser and new optics, Key is extending its successful Optyx® Raptor family of laser inspection systems by leveraging its ten-year expertise in camera-based fluorescence-sensing sorting. Now, using the most powerful laser in the food industry, which is protected by the only Class 1 laser enclosure in the industry, Key's new FluoRaptor detects the presence of chlorophyll in products. This enables an easy separation from those objects that do not contain chlorophyll, namely FM. Further, the improvements in fluorescence-detection technology enable differentiation of subtle differences of chlorophyll levels in objects to detect and remove EVM.

Compared to competitive fluorescence-sensing sorters, FluoRaptor dramatically speeds product changeover. Camera-only based fluorescence-sensing sorters typically take three hours to change over from a fluorescence-sensing application to other applications because the lighting and in some cases, camera systems must be changed. Other laser-based fluorescence-sensing sorters require changing mechanical parts. FluoRaptor eliminates such mechanical change parts, which enables the sorter to be changed over in seconds by simply recalling the appropriate product setting on the control panel.

With the greatest laser power density in the industry, FluoRaptor improves the signal-to-noise ratio to produce a more accurate product signature, which makes detection more robust. With the highest resolution laser scanner in the food industry, Raptor detects the smallest defects.

Like all sorters in Key's Optyx Raptor family, Optyx FluoRaptor combines laser technology with proprietary tri-chromatic cameras, which can be configured to sense a combination of visible color and infrared (IR) light. With its Vis/IR cameras, Optyx FluoRaptor analyzes size and shape as well as millions of subtle color differences. With its FluoRaptor laser, the sorter reliably detects defects and foreign material based on differences in the fluorescent properties of the objects.

Detecting differing levels of chlorophyll, FluoRaptor easily differentiates peas from the same-color pod, vine, and leaf whether product is fresh or frozen, blanched or unblanched. Handling corn, FluoRaptor easily detects and removes husk and shank. For carrots and potato products, inspecting chlorophyll allows the sorter to better identify subtle green tones. For Fresh Cut products such as baby spinach, spring mix, and other tender leaf products, Fluo Raptor removes insects and animal parts as well as cardboard, plastic, metal, and glass. Processors of iceberg, romaine, and cabbage can also remove core using FluoRaptor.

Easy to use, the laser image is displayed in full color, allowing an operator to make quick selections of those objects to be kept, versus those objects to be rejected. Images and setups can be stored on the G6 computer hard drive, remotely, or on a USB key for quick retrieval and re-use.

FluoRaptor is available on Key's narrow-belt Optyx 3000 and its wide-belt Optyx 6000 sorters. Ideal for lower volume applications, the 24-inch (610 mm) wide Optyx 3000 features up to three sensors located above and/or below the product stream, depending on the needs of each application, to handle up to six metric tons of product per hour. For higher volume processing lines, the 48-inch (1220 mm) wide Optyx 6000 achieves production rates of up to 12 metric tons per hour, depending on the application.

Based on Key's powerful electro-optical platform, Optyx offers the most advanced image processing in the industry. Featuring a modular design and proven, high-performance connectivity standards such as Camera Link(TM), FireWire® and Ethernet, Key's Optyx Raptor delivers on the promise of the system's flexibility to engage new sensor technology. That same flexibility ensures forward compatibility to maximize a food processor's long-term return on investment.

The icon-based graphical user interface (GUI) is easy to learn and use, reducing operator training and simplifying optimum operation. The user interface integrates Raptor laser scanner information, allowing the operator to see what the laser is "seeing." This patented feature delivers more intuitive machine feedback to the operator, which allows for more accurate adjustment of accept/reject thresholds. Product settings can be stored and retrieved for fast product changeover. The GUI can reside locally on the sorter and also can be accessed remotely via network or Internet, enhancing the flexibility in the operating environment and easing access for remote factory troubleshooting and application assistance. Sophisticated real-time and on-demand diagnostics help minimize and avoid costly downtime, and detect conditions that could compromise inspection.

About Key Technology, Inc.
Key Technology, an ISO-9001 certified company, is a leading designer and manufacturer of process automation systems, integrated electro-optical inspection and sorting systems, and processing systems. Key® systems help processors to improve quality, increase yield, and reduce cost. With worldwide sales representation, the company maintains demonstration and testing facilities at its headquarters and manufacturing divisions in Walla Walla, Washington, USA, and at Key Technology BV in Beusichem, the Netherlands. The company's common stock trades on the Global Market tier of The NASDAQ Stock MarketSM under the symbol: KTEC.

Reader Inquiries To:
Anita Funk, Corporate Communications Manager
Key Technology, Inc.
150 Avery Street
Walla Walla, WA 99362 USA
Tel: 509 529 2161
Fax: 509 527 1331
Email: afunk@key.net
URL: www.key.net

More from Fasteners & Hardware