Laser Alignment Systems offer live data output.
Press Release Summary: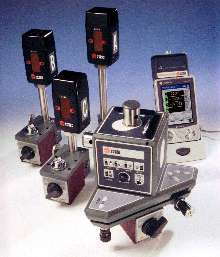 Series L-740 Ultra-Precision Systems are machine tool grade, while Series L-730 Precision Systems are suitable for fabrication. With ability to use multi-targets simultaneously, lasers can collect complete geometric data on most machining centers in 90 min. Series L-740 lasers offer flatness capability of 0.00001 in./ft and 200 ft operational range. Series L-730 lasers have continuously sweeping laser planes accurate to 0.00012 in./ft and include built-in, back-lit level vials.
---
Original Press Release:

Hamar Introduces "Next-Generation" Laser Alignment Systems


Eight new product options available - from high-end, ultra-precise geometry lasers to lower-cost fabrication packages - to satisfy virtually any alignment need.

DANBURY, CT (April 25, 2003). . . Hamar Laser Instruments, Inc. is introducing a complete line of re-engineered, continuously sweeping laser alignment systems, which means Hamar is now able to offer more laser alignment solutions than ever before to satisfy a broader range of application, budget and accuracy requirements.

Two accuracy grades are available: the L-740 Ultra-Precision (machine tool) Series, and the L-730 Precision (fabrication) Series. A new innovation in optical design has also allowed a reduction in both the size and the price of all systems by as much as 50% over previous Hamar models.

The new lasers are up to 60% faster than traditional or interferometer methods, and feature the simplest, quickest setup on the market. With live data output and the ability to use multi-targets simultaneously, lasers can collect complete geometric data on most machining centers in 90 minutes or less. For those with heavy documentation needs, optional wireless targets can download data automatically into Hamar's powerful alignment software to analyze the data and generate clear, concise reports.

The L-740 Series is divided into multi-plane laser systems for complex, ultra-precise multi-axis applications (L-743 Triple Scan®, L-742 Dual-Scan®), and single-plane laser systems for simpler squaring and leveling applications (L-741, L-740).

All L-740 Series lasers produce the flattest laser plane available with a flatness capability of 0.00001"/ft or 0.0012mm/M and a 200' operational range. Wireless target options have high resolutions (down to 0.00002" or 0.0005 mm). Multi-plane lasers have built-in squareness accurate to 0.00006"/ft or 0.005mm/M.

L-740 Series applications include: Machine Tool: (vertical and horizontal machining centers; boring mills; vertical turning lathes and large lathe beds; floor and spar mills; vertical and horizontal presses; transfer-line wing bases; roll forming machines; gantries; machine tool assembly and calibration); Plastics: (film and blown-film lines, injection molding machines); Roll Alignment: (paper mills; printing presses; continuous casting machines); Leveling: (split joints on steam turbines; machine bed leveling); Quality Control: (surface plates; large part flatness and straightness checks; calibration of large fixtures and jigs; checking flatness when scraping ways).

The L-730 Series lasers provide high-accuracy, but at a more economical price suitable for lower tolerance applications such as fabrication alignment, steel and textile industry roll alignment, and woodworking, water-jet/laser-cutting machinery.

The 730 Series is offered in multi-plane versions (L-733 Precision Triple-Scan®, L-732 Precision Roll Alignment System), or single-plane versions (L-731 Precision Leveling Laser with Plumb Beam, L-730 Precision Leveling Laser System).

All L-730 Series lasers have continuously sweeping laser planes accurate to 0.00012"/ft or 0.01 mm/M and are equipped with built-in, back-lit level vials with the same accuracy. Multi-plane lasers also feature the easiest measurement of squareness on the market with the same accuracy.

The L-730 Series offers two target options: The first features 001" (.02 mm) resolution, up to a 3" (75 mm) measuring area, and built-in readouts. The second has wireless communication to a PDA readout, with a measuring area up to 1" (25 mm) and resolution to 0.0001" (0.0025 mm).

L-730 applications include: Fabricating Machinery: (roll forming and tube bending machines; routers; water jet/laser cutting machines; saw mills and woodworking machines); Fabrication Alignment Checks: (truck bed, locomotive and fire truck assembly; large construction and agricultural machinery); Roll Alignment: (steel, aluminum, textile and food processing mills); Aerospace: (body-to-body and wing-to-body joining alignment; interior alignment such as storage bins, seat tracks and galleys; floor beam alignment; jig/tooling calibration and leveling); Ship Building: (layout, section and hull construction alignment; elevator, periscope, shaft and gun-bearing alignment).

For more information contact Hamar Laser, 5 Ye Olde Road, Danbury, CT 06810. Call 1-800-826-6185; Fax: (203) 730-4611; e-mail: sales@hamarlaser.com; Web-site: www.hamarlaser.com

More from Electrical Equipment & Systems