Larson Electronics Offers Priority Program for Hurricane Sandy Storm Rebuild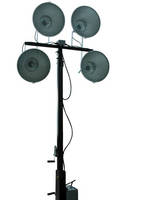 Larson Electronics' Magnalight.com announced a priority order management program to assist in the clean-up effort for businesses and municipalities in New England and areas affected by Hurricane Sandy. With a wide area of temporary power and temporary lighting solutions for general area and hazardous are use, Larson Electronics products can help in rebuilding storm damaged areas by prioritizing orders and inventory allocation for customers in the Northeast.

Larson Electronics has announced an increase in production and inventory stock of portable lighting and temporary power distribution systems to New England residents to assist in clean-up efforts. Products, including the EXP-LED-F4W explosion proof LED flashlight, the LEDP5W-12LT portable, battery powered LED area light mini-tower, the MGL-7-480-2X120V wheeled power distribution cart, and the [LM-20-4X1000W 4000 watt twenty foot extendable light tower are typically used for plant turn-arounds and other applications where the main power is not available. With an extensive inventory of related items, Larson Electronics will prioritize orders businesses and residents in the northeast working to clean up and rebuild.

"We have a wide variety of products to assist in clean-up efforts including remote control vehicle lights, handheld spotlights, portable battery operated lights, mini-light towers and power distribution that will help operators rebuild in the New England area," said Rob Bresnahan with Larson Electronics' Magnalight.com. "We will move their orders to the top of the queue for processing. We have also increased production of light masts and other related items typically required after a storm of this magnitude."

Larson Electronics offers industrial grade lighting and power distribution for a wide variety of manufacturing, construction and military applications. You can learn more at www.magnalight.com or call 1-800-369-6671 to learn more about the products and Hurricane Sandy Storm Priority Program.

More from Fluid & Gas Flow Equipment