Larson Electronics' Magnalight Spotlights: The Secret to 'Carnivore's' Successful Predator Hunts?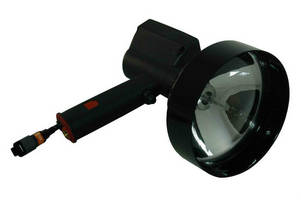 The new TV series 'Carnivore' airing on the Pursuit Channel spotlights predator hunting and innovative hunting and hunt filming techniques, including the unusual use of bright white spotlights instead of traditional spotlights with red filter lenses. Spotlights from Larson Electronics' Magnalight.com make up the lighting of choice for all filming during Carnivore's predator hunts, offering a clue to the show's surprising success with ignoring traditional red colored lighting and yet still producing some of the best footage of nighttime predator hunting to date.

Larson Electronics' Magnalight has long produced some of the best spotlights in the commercial and industrial lighting industry, with a history that spans over 40 years of supplying utility services, cable companies, energy producers and federal agencies with the most durable and effective lighting available. Larson Electronics has lately expanded their reach with great success via the World Wide Web, resulting in the quickly growing popularity of their spotlights among hunters, boaters and the private sector. Highlighting this growing popularity and the effectiveness of Magnalight spotlights, the new television series 'Carnivore' which began airing in July of 2011, makes use of the HL-85, HL-85-HID hunting spotlight, and ML-4 magnetic base spotlight series exclusively when filming its nighttime predator hunts. Despite choosing to hold off on revealing the precise manner in which they are deployed or showing the lights themselves, the power and quality of the Magnalight hunting spotlights is clearly demonstrated by the clarity of the footage the Carnivore crew is capturing and the power and quality of the light beams being produced. Magnalight produces a wide array of spotlights that have become popular among hunters due in no small part to their extremely rugged housing designs, unique reflectors that concentrate light output without the spillage and irregular light patterns of cheaper spotlights, and a wide variety of available power and mounting options. With the success of the Carnivore filming crew using the Magnalight ML-4, HL-85, and HL-85-HID series of spotlights without traditional red lenses being demonstrated on national television, it's likely only a matter of time before t these secrets of their success become household names among hunters across the US.

"We have a wide variety of low voltage, high powered lighting suitable for hunting and spotting," said Rob Bresnahan with Larson Electronics' Magnalight.com. "With vehicle mount and handheld options, every hunter should find an option for their set of criteria at Magnalight.com."

Larson Electronics' Magnalight stocks an extensive inventory of hunting lights, hunting spotlights, HID spotlights, and magnetically mounted spotlights and continually improves and adds to its selection with the latest and best in lighting technology. The full line of Larson Electronics' spotlights can be seen by visiting Magnalight.com. Magnalight can meet special order lighting requirements and can be contacted by calling 1-800-369-6671 or 1-214-616-6180 for international inquiries.


More from Electrical Equipment & Systems