Larson Electronics' Magnalight.com Offers LED Drop Light and Cord Reel Suitable for Installation in Hazardous Locations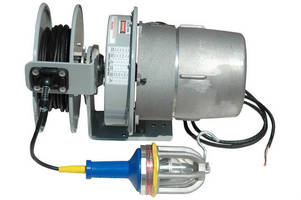 Larson Electronics Magnalight.com has offered for sale a 7 watt LED work light with factory integrated cord reel that can be installed within the hazardous workplace for maximum convenience and effectiveness. Producing over three times as many lumens per watt as a 100 watt incandescent lamp, the EHL-LED-7W-50-HR LED drop light with cord reel offers cool operation and durable construction in a unit that is approved Class 1 Division 1 & 2 and Class II Division 1 & 2. Designed for ease of use, strong output and long life, this LED drop light can be permanently installed within the hazardous work area, making it ideal for everyday operations requiring explosion proof lighting with high mobility.

Built with a long life 7 watt LED lamp producing 760 lumens of high quality light, the EHL-LED-7W-50-HR LED drop light with cord reel offers operators in hazardous locations a more durable and cooler running lighting option than incandescent drop lights. A 7 watt LED lamp is housed within an aluminum and steel fixture and protected by molded rubber bumpers and an aluminum lamp cage. The light output from these hand held work lights is whiter and crisper than the light from incandescent lamps, producing better contrast and truer color rendition of illuminated areas and objects. The LED design of this work lamp operates with 110, 115, or 120 VAC, yet results in much cooler operation than incandescent lamps. Even after an hour of use this lamp will not harm the user if the lamp housing is touched, unlike incandescent lamps which can cause severe burns. Included in this drop light package is an explosion proof approved cord reel containing 50 feet of SOOW cord. Designed with a built in ratcheting mechanism and 4-roller adjustable cable guide and ball stop, this cord reel provides easy cord management, preventing issues with tangling or possible tripping hazards a standard cord may create. Suitable for indoor and outdoor use, this LED drop light is highly durable and vibration/impact resistant as well as protected against rust and corrosion with an epoxy finish on all steel parts. The lamp and cord reel assembly is built to UL 508 table 36.1 / NEC Standards, Class 1, Division 1, Groups C & D - Zone 0, 1, & 2 - Class 2, Division 2, Groups E, F, & G approved, and ideal for hazardous locations such as petrochemical refineries, industrial chemical processors, oil rigs, industrial manufacturing plants and any locations where flammable chemicals, vapors and similar materials are encountered.

"Operators looking for fully integrated LED trouble lights with a retractable explosion proof reel to eliminate trip hazards and cord clutter will find the EHL-LED-7W-50-HR a useful addition to their hazardous location areas," said Rob Bresnahan with Larson Electronics' magnalight.com. "With a Class 1 Division 1 and Class 2 Division 1 UL listing, this LED trouble light will work for both hazardous areas with vapors and dusts."

Larson Electronics' Magnalight manufactures and distributes intrinsically safe LED lights, explosion proof LED drop lights, low voltage LED lights, explosion proof flashlights and LED trouble lights. View the entire Magnalight line of explosion proof lighting by visiting Magnalight.com. You can also call 1-800-369-6671 to learn more or call 1-214-616-6180 for international inquires.

More from Materials