Large Format Dispensing System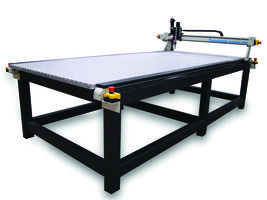 The RD 2500 is the most flexible large format dispensing table available. It combines a smart work bench to a built in precision overhead servo XYZ gantry system. Mechanism are neatly tucked in and do not add to the width of the bench. This provides easy access from front, sides, and top requiring less operator "reach" to the center of the table.
Another unique design feature is the T-Slot table base plate. 25 full length slots provide more than ample fixturing possibilities for most applications. Under this table surface, the actual machine base is fabricated from steel tubing, and then is ground to a specified flatness.
This modular design provides the ideal foundation for mounting virtually any type of top surface including:
T-Slot Table
Vacuum Table
Panel Conveyor
Custom Plates
Standard machine can travel at over 32 inches per second and is available in the following travels:
100" x 50" (2500mm x 1250mm)
50" x 50" (1250mm x 1250mm)
We offer limitless customizing capabilities for other sizes. Proudly Made in the USA!
Dispense Works Inc. is a full service designer, manufacturer and developer of robotic dispensing solutions. The RD Series is available with all DW Inc. control options including vision, meter/mix control, up to 8 axes of motion control and full production logging / tracking and reporting software.
Dispense Works Inc. www.dispenseworks.com 815-363-3524 info@dispenseworks.com
Related