Large Flow Volume Boosters deliver output pressure up to 150 psig.
Press Release Summary: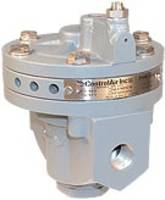 ControlAir's Large Flow Volume Boosters are offered in Type-6000 and 6600 models with supply pressure of 150 and 250 psig respectively. Units are operated in -40º to 93ºC temperature range and an exhaust capacity of 150 scfm. Type-6600 comes in 3/4 and 1 in. NPT porting and the Type-6600 offers flow capacity of up to 400 SCFM.
---
Original Press Release:
ControlAir Announces the Release of Valve Boosters for Tough Environments
ControlAir, Inc., a leading manufacturer of precision pneumatic and electro-pneumatic controls, is pleased to share its capabilities in supporting offshore production and other corrosive environments. ControlAir's product offering of Stainless Steel pneumatic pressure regulators and volume boosters for the offshore and corrosive environments can now be found in one catalog located under 'Resources' on its website.
Common across all products in this group is a rugged construction and the use of corrosion resistant materials. With 316L Stainless Steel materials being used in the housings to ensure the best resistance to corrosive environments, ControlAir has designed these regulators and volume boosters to provide reliable operation.
Included in this group of products, the Type-350, 360, 380 and 390 regulators will operate on supply pressures up to 290 PSI (20.0 BAR) and offer flow capacity volumes up to 500 SCFM (14,150 Nl/min). These units can regulate air, inert gas along with sweet and sour gasses. The 350, 360 and 370 units are also NACE compliant to #MR-01-75 requirements. With options such as low temperature, auto-drain and up to 5 different output ranges, ControlAir has the ability to get you the right regulator for your tough environment.
The Large Flow Boosters, Type-6000 and 6600 handle up to 150 and 250 psig supply pressure (respectively) and deliver an output pressure up to 150 psig (10.0 BAR). The Type-6600 delivers a flow capacity of up to 400 SCFM (11,320 Nl/min). Units are rated to a wide operating temperature range of -40º to 200ºF (-40º to 93ºC). Exhaust capacity is 150 scfm (4,245 Nl/min). The Type-6600 are available in 3/4" and 1" NPT porting.
ControlAir Inc. manufactures precision pneumatic and electro-pneumatic controls. ControlAir's markets include process control, semiconductor, printing and converting presses, diagnostic and surgical medical equipment, robotics, quality control, automotive, analyzers, compressors, pumps and paint equipment. For more information, ControlAir's website, www.controlair.com, offers full product specifications with PDF files, 3-D Interactive Catalogs, downloadable 3-D and 2-D CAD drawings, and company profile.
More from Test & Measurement