Large Display Strain Gauge optimizes measurement accuracy.
Press Release Summary: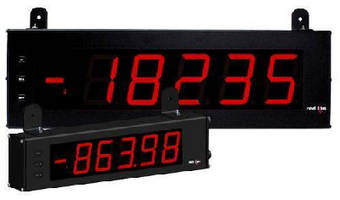 Available in NEMA4X/IP64 sealed enclosure with 2¼ or 4 in. display, Large Display Strain Gauge accepts most load cell and strain gauge inputs. Unit communicates real-time weight information to database or management system for accurate monitoring, storage, and reporting. With alarming setpoints and digital display that is readable from up to 180 ft away, operators are automatically alerted and can see when weight limits are being approached or exceeded.
---
Original Press Release:

Red Lion Unveils Large Display Strain Gage (LDSG) for More Accurate Weight Measurement



Delivers Better Digital Visibility from Longer Distances to Cost-Effectively Improve Efficiency and Safety



YORK, Pa., -- Red Lion Controls, the global experts in communication, monitoring and control for industrial automation and networking, today announced the availability of its new Large Display Strain Gage (LDSG). The LDSG is the latest addition to Red Lion's popular Large Display portfolio for advanced control and communication of weight measurement in environments such as food processing, truck and crane scales, cement mixing and transport, and other weight monitoring scenarios. Its advanced functionality and larger display screen gives plant engineers and maintenance staff the reliability and ease of use required to improve efficiency and reduce costs by increasing weight measurement accuracy. 



Available in both a 2-1/4-inch and 4-inch display size, Red Lion's LDSG accepts most load cell and strain gage inputs and communicates real-time weight information to a database or management system for accurate monitoring, storage and reporting. This type of information is important for applications such as food processing, where weight monitoring and controlling of each ingredient is essential to accurately following recipes in batch production. By using alarming setpoints and a display that is readable from distances up to 180 feet away, operators are automatically alerted and can easily see when weight limits are being approached or exceeded.



"The larger display size and flexible input design of our new LDSG provide the features industrial customers need to enhance the safety of process control," said Jeff Thornton, director of product management for Red Lion Controls. "By reliably communicating and saving weight values to a connected database, LDSG helps customers address various regulations."



With easy, push-button setup and NEMA4X/IP64 sealed enclosure design, LDSG implementation is simple.Once installed, weight values can be collected in real time and used later via its RS232/RS485 serial communication ports. This is especially significant for the crane industry, where insurance mandates are starting to require operators to verify that cranes are not picking up more weight than designed to hold.



The LDSG is supported by Red Lion's award-winning Crimson® 3.0 software. Crimson makes it fast and easy to configure the display, enable setpoints and more. For more information about Red Lion's new LDSG, please visit www.redlion.net/LDSG.



About Red Lion Controls

As the global experts in communication, monitoring and control for industrial automation and networking, Red Lion has been delivering innovative solutions for over forty years. Our award-winning technology enables companies worldwide to gain real-time data visibility that drives productivity. Product brands include Red Lion, N-Tron and Sixnet. With headquarters in York, Pennsylvania, the company has offices across the Americas, Asia-Pacific and Europe. For more information, please visit www.redlion.net/together. Red Lion is a Spectris company.



Media Contacts:

Tracy Courtemanche

Red Lion Global Marketing

+1 (717) 767-6961 x6915

pr@redlion.net

www.redlion.net

Related