Large Digit Displays can be viewed from up to 160 ft away.
Press Release Summary: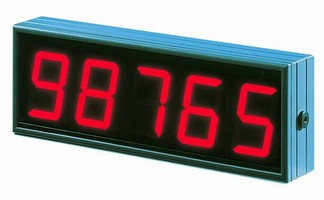 Available for analog, pulse, and serial data signals, G04 Series Large Digit Meters, Counters, Timers and Serial Input Displays come with oversize 4.0 in. digits for long distance viewing in any plant or outdoor environment. Number of digits is 5 for analog or rate signals for readings from -19999 to 99999, and up to 7 for totalizing or for use as serial input remote display with readings from -1999999 to 9999999. Elapsed timer and time-of-day clock configurations are also available.
---
Original Press Release:

Four-Inch Large Digit Meter, Counter and Timer Series Allows Viewing Distances up to 160 Feet (50 Meters).



Costa Mesa, CA - Laurel Electronics, Inc. announces G04 Series Large Digit Meters, Counters, Timers and Serial Input Displays with oversize 4.0 in. (102 mm) digits for long viewing distances up to 160 ft. (50 m). The displays are designed for viewing in a plant or outdoor environment where it would not be practical for an operator to walk up to an instrument panel or a computer screen.

G04 Series meters are available for a wide range of signal types, which include analog, pulse and serial data signals. Analog signals are 4-20 mA, 1-5 V, 0-10 V process signals, strain gauges, and load cells for weighing scale applications. Pulse signals are NPN or PNP proximity switches, 5 V logic, 24 V pulses, and contact closures for display of rate, frequency, or pulse totalizing. Serial data signals are RS-232, RS-422 or RS-485, allowing the unit to serve as a remote display driven by a computer or PLC. Programming is by means of a hand-held remote.

The number of digits is 5 for analog or rate signals for readings from -19999 to 99999, and up to 7 for totalizing or for use as a serial input remote display, with readings from -1999999 to 9999999. In addition, 4 or 6-digit elapsed timer and time-of-day clock configurations are available for readings in HH:MM or HH:MM:SS format.

The case size is 18.9" x 6.6" x 3.5" (480 x 168 x 90 mm) for 5 digits and 26.41" x 6.6" x 3.5" (672 x 168 x 90 mm) for 7 digits. Available mounting methods include wall mount and suspension mount.

Options include ultra-bright outdoor readable digits in lieu of normal indoor digits, dual contact relays for control or alarm, serial data output, and 11-30V dc power in lieu of normal 95-265V ac power.

Pricing starts at $1,275. For product specifications and pricing, visit www.laurels.com/grandseries.htm.

For more information, contact Jim Way, VP Sales & Marketing, phone 866-709-7713 or 714-434-1631, email sales@laurels.com.

Founded in 1990, Laurel Electronics, Inc. is a leading U.S. manufacturer of programmable industrial digital panel meters, counters, timers, and DIN rail transmitters.

Web: www.laurels.com
Email: sales@laurels.com

More from Materials