Large Diameter Butterfly Valves convey aggressive media.
Press Release Summary: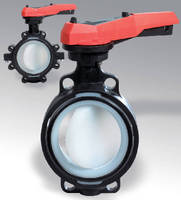 Type 567 wafer style valve, offered in 2-12 in. dia sizes, is manufactured with glass-filled polypropylene and compatible with ANSI and DIN flanges. Type 568 lug style valve comes in 2-8 in. dia sizes and is constructed of epoxy powder-coated ductile iron with ANSI 150 bolt pattern. Able to be electrically or pneumatically actuated, both types feature disc and liner made of PVDF as well as PTFE seals to promote chemical resistance and performance across -4 to +248ºF temperature range.
---
Original Press Release:

GF Piping Systems' New Large Diameter Butterfly Valves



GF Piping Systems' New Large Diameter Butterfly Valves with PVDF/PTFE Offer Superior Chemical Resistance and High Temperature Range for Harsh Environments

TUSTIN, Calif. - March 27, 2009 - GF Piping Systems has introduced the new chemically resistant Type 567 and 568 Butterfly Valves in large diameter sizes up to eight or 12 inches, depending on model. The new valves feature a disc and liner made of PVDF (polyvinylidene fluoride) and PTFE (polytetrafluorethylene) seals to provide superior chemical resistance and performance capabilities across a wide temperature range. Suitable applications include chemical processing, chlorine electrolysis, chemical production, and sanitization in markets such as food and beverage, pulp and paper, and steel production.

By combing the two high-performance plastics of PVDF and PTFE, the new valves provide exceptional reliability, low permeability and high chemical resistance for conveying extremely aggressive media. Specifically, three separate sealing elements are used: a PTFE profile seal in the seal passage, a double internal shaft seal on both sides of the shaft, and a special profile flange seal with broader contact face. Further reliability is provided with the disc's PTFE outer shell and FPM inner core. Remaining seals are made of a FPM/PTFE blend with 15% PTFE. Additionally, the dry-sliding properties of PTFE allow for better handling in degreasing media applications.

The new valves were designed to provide a solution for plastic piping systems that handle extremely aggressive chemicals. "Harsh chemical media will attack traditional sealing materials like EPDM, Viton® or NBR (nitrile rubber)," explains Brian Gordon, GF Piping Systems' Product Manager. "Under extreme environmental applications, these traditional materials will simply not hold up. To our knowledge, no one else on the market offers a PVDF/PTFE sealing solution for plastic butterfly valves."

Available in two styles, the Type 567 Wafer style is available in sizes 2-12" and is manufactured with glass filled polypropylene compatible with ANSI and DIN flanges. The Type 568 Lug Style Valve is available in sizes 2-8" and is constructed of epoxy powder coated ductile iron with ANSI 150 bolt pattern. Both valves provide an operating temperature range of -20º to 120 ºC (-4ºF to 248 ºF) and can be electrically or pneumatically actuated. Other outstanding characteristics include bi-directional capability and a high psi rating of 150.

The new corrosion-resistant valves incorporate the proven double eccentric operating principle that provides improved wear and easier operation over traditional eccentric style butterfly valves. The off-center shaft design allows the disc to completely disengage from the disc seal, even when partially open. This reduces seal friction and improves seal wear characteristics, resulting in longer service life, minimal maintenance and better protection against pressure surges. The double eccentric design also lowers the torque required to operate the valve, making for easy manual operation and use of smaller actuators at a significantly reduced cost. And with no gap between the disc and the seal, particles wash away, preventing potential build-up that can obstruct flow.

The Type 567 and 568 Valves are available with a variety of modular components for optimum flexibility for system expansion or replacement. Examples include manual valves with hand lever or gear operated wheel, electric or pneumatic actuation, positioner for throttle or flow control, limit switches, and fine adjustment option for additional flexibility of disc angle control. Both manual and actuated versions include electronic feedback, particularly important for more sophisticated fluid handling systems.

The Type 567 and Type 568 Valves meet international standards of DIN EN ISO 16136, ISO 9393, and EN 558. Approvals include DIBt, ACS, TA Luft, KTW approval for drinking water. NSF61 approval is pending.

GF Piping Systems supplies a full range of plastic pipe, fittings, tubing, valves, actuators, rotameters, fusion machines, secondary containment, tank linings, heat exchangers, custom products, and sensors and instrumentation for industrial process control. For further information, please contact GF Piping Systems, 2882 Dow Avenue, Tustin, CA 92780-7258; Toll Free (800) 854-4090, Fax (714) 731-6923; e-mail: us.ps@georgfischer.com; Web: www.gfpiping.com

Contacts:
Cia Communications
Cynthia Guardia
Phone (714) 998-9255
cynthiaguardia@roadrunner.com

GF Piping Systems
Brian Gordon
Phone (714) 731-8800
brian.gordon@georgfischer.com

More from Software