Large Crane handles rough terrain.
Press Release Summary: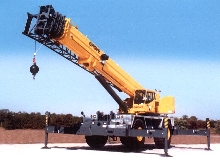 The 130 ton RT9000E crane provides mobility, maneuverability and pick-and-carry capabilities. It has a five section 42 to 160 ft boom that provides a 169 ft maximum tip height and 140 ft maximum radius with 3,770 lb capacity. Cab has tinted safety glass, armrest-mounted single-axis controllers, hot water heater, air fan, sliding side and rear windows, sliding skylight with electric wiper and adjustable sun screen. Air-conditioning is available.
---
Original Press Release:
New Grove Rough Terrain Crane Is Largest Available

Grove has again raised the bar with the introduction of their new RT9000E, a 130 ton (115 tonne) rough terrain crane. Up until now, the largest regular production model rough terrain crane available on the market was Grove's RT9100 at 100 tons (90 tonnes). The RT9000E will compete strongly with conventional crawler cranes and offer exceptional mobility, maneuverability and pick-and-carry capabilities not previously available on the job site. It should prove to be a popular choice for bridge jobs and work in power and chemical plants as well as refineries and any other large construction projects.

The crane features a five section, full power 42-160 ft. (12.8-48.7) MEGAFORM boom which provides a 169 ft. (52 m) maximum tip height on the main boom and a 140 ft. (36.6 m) maximum radius with 3,770 lbs. (1 710 kg) capacity. A standard 36-59 ft. (11-18 m) lattice bifold extension is offsettable at 0°, 20° and 400 and stows alongside the base boom section. An optional 00 to 40° hydraulically offsettable bifold swingaway with the same dimensions is also available. Two 26 ft. (8 m) lattice extension inserts are also available which provide a maximum tip height of 279 ft. (85 m), an impressive number for a rough terrain crane. Grove RT crane users will feel right at home in the cab as it is common to all Grove "E" series model rough terrain cranes. The cab provides unique 200 tilt and is a full- vision design with tinted safety glass throughout. Familiar Grove armrest-mounted single-axis controllers provide precise operational control. Some of the other standard features include a hot water heater, cab circulating air fan, sliding side and rear windows, sliding skylight with electric wiper and adjustable sun screen. Air conditioning is available.

A "Graphic Display" load moment and anti-two block system with audio-visual warning and control lever lockout is standard. These systems provide electronic display of boom angle, length, radius, tip height, relative load moment, maximum permissible load, load indication and warning of impending two-block conditions. A standard Work Area Definition System allows the operator to pre-select and define safe working areas. If the crane approaches the pre-set limits, audio-visual warnings aid the operator in avoiding job site obstructions.

Controls and indicators are provided for cab tilt, two swing speed selections and brake. A full complement of gauges is provided for engine functions. Other standard equipment includes dual rear view mirrors, electronic back-up alarm, hoist mirrors and a light package.

The RT9000E is powered by a Cummins QSC8.3L six cylinder diesel rated at 300 bhp (224 kW) @2,200 RPM. The full powershift transmission provides 6 forward and 3 reverse speeds. Maximum speed is 24 MPH (39 kph). Four main steering modes provide exceptional maneuverability: front only, rear only, crab and coordinated. Automatic full hydraulic lockouts on the rear axle permits 10 in. (25.4 cm) oscillation with the boom centered over the front.

The outrigger system uses hydraulic single-stage box beam outriggers with inverted jacks and integral holding valves. Three outrigger positions are provided: retracted, 50% and 100% extension. Outrigger boxes are hydraulically pinned and are quick disconnect for easy removal and installation for transport purposes. The unit is designed for very easy transport and the standard 24,000 lb. (10 886 kg) counterweight as well as the optional 16,000 lb. (7 257 kg) counterweights which consist of two 8,000 lb. (3 629 kg) sections are all hydraulically installed and removed.

Other features include a quick reeving boom nose and a removable auxiliary boom nose with removable pin type rope guard. Full aluminum decking is provided as well as hook block stowage and tie down lugs. Grove grooved drum main and auxiliary hoists are used and hook block and top swivel ball are standard. Dimensions of the RT9000E are: overall length 53 ft. (16.15 m), overall height 13 ft. 7.5 in. (4.14 m) and overall width 12 ft. 5 in. (3.8 m). Chassis length is 31 ft. 10 in. (9.7 m) with outrigger boxes and 26 ft. 8 in. (8.13 m) without outrigger boxes.

The new RT9000E from Grove offers crane users a new dimension in rough terrain capacity, the mobility of a RT, familiar and operator friendly Grove controls in a package designed for easy transport, maintenance and serviceability. The unit is covered by Grove's 10 year structural warranty and backed by Grove industry-leading parts and service support. Grove has an unsurpassed North American and International presence with distribution in more than 125 countries on six continents plus industry-leading manufacturing and product development facilities and partners in North America, Europe and Asia. Grove products are marketed as Grove® Crane, National Crane, and Grove Manlift® aerial work plafforms.

More from Electrical Equipment & Systems