Large Butterfly Valves feature one-piece, through-stem design.
Press Release Summary: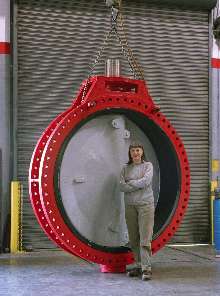 Resilient-seated, full-flanged Series 35 and 36 butterfly valves are rated 75 and 150 psi, respectively, and come in 60, 66, and 72 in. sizes. Disc casting is spherically machined and hand polished to provide 360° concentric seating and bubble-tight shut off. V-type stem packing is self-adjusting with bi-directional sealing, which prevents external substances from entering upper stem bore. Bronze adjustable packing gland allows for field adjustment of stem packing.
---
Original Press Release:
Bray Controls Announces New Line of Large Diameter, Resilient Seated Butterfly Valves, 60 Inches, 66 Inches, and 72 Inches
Houston, TX-January 29, 2004-Bray Controls has announced a new line of heavy duty, large diameter, resilient seated butterfly valves. The new Series 35/36 are full-flanged versions rated at 75 and 150 psi, respectively and are available in sizes of 60", 66", and 72". These new valves have many of the design features and benefits of smaller Bray valves, such as high Cv ratings, minimum parts exposed to the line media, greater reliability and a proven record of long service life. All Bray valve bodies are drilled to be compatible with ANSI 125/150 or other International flange standards. The Series 35/36 may be bolted to allow downstream flange removal or cross-bolted for maximum resistance to line stresses. The high strength disc casting is spherically machined, hand polished to provide 360° concentric seating, bi-directional bubble-tight shut off, minimum torque and longer seat life. The symmetrical disc profile enhances valve performance. Bray's advanced V-Type stem packing is self-adjusting with bi-directional sealing which prevents external substances from entering the upper stem bore. This packing is externally adjustable and functions well for vacuum applications as well as a third pressure seal in emergency situations. A bronze adjustable packing gland allows for field adjustment of stem packing without removing manual operators or power actuators. To minimize bearing friction and operating torque, heavy wall bronze sleeve bearings are utilized. A bronze vertical thrust bearing eliminates disc displacement due to the weight of the stem and disc. Bray's one piece through stem design is completely isolated from the flowing media and achieves high torsional strength. The stem ends are standardized for direct mounting and interchangeability with Bray actuators. Tangential taper pins of 17-4 PH stainless steel are driven and mechanically locked for maximum torsional capacity and resistance to vibration. O-rings are installed with the driven-in taper pins to insure bubble-tight shutoff under pressure or vacuum conditions. Due to a modular concept of design, all Bray manual gear operators and pneumatic or electric actuators mount directly to Bray valves. Another key element is Bray's unique tongue and groove seat design which fully isolates the body from line media. And a superior primary seal is achieved by preloaded contact of spherically machined hand polished disc hubs with unique molded seat flat surfaces. This sealing method isolates the flowing media from the stem and body material at all angles of valve disc opening and seating. Bray International, Inc., headquartered in Houston, is a leader and innovator in process control automation, with worldwide manufacturing and distribution facilities. Products include automated and manual 1" through 72" butterfly valves, pneumatic and electric actuators, valve status monitors, electro-pneumatic and pneumatic positioners, solenoid valves and control accessories. For more information, contact Bob Bloem at 13333 Westland East Blvd., Houston, TX 77041. Phone 281-894-5454; FAX 281-894-9499. www.bray.com email: bob.bloem@bray.com
More from Cleaning Products & Equipment