Large Angle Grinder provides on-the-job safety.
Press Release Summary: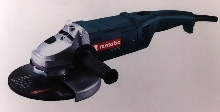 Featuring one 7 or 9 in. wheel, grinding machine is available in two models: W23-180 or W23-230. Flexible rear handle rotates 90° during cutting operation. Its 3-position side handle allows users to turn tool 90° to cut vertically while maintaining firm grasp on grinder. Model W23-180 is rated at 2,300 W, has rated torque of 124 lb-in., and operates at 8,500 rpm. Model W23-230 is rated at 2,100 W, has rated torque of 150 lb-in., and operates at no-load speeds of 6,600 rpm.
---
Original Press Release:
Metabo Introduces New 7" and 9" Angle Grinders That Provide On-the-Job Safety While Tackling Large Cutting and Grinding Jobs

West Chester, PA, June 26, 2002 - Two new large angle grinders designed for both cutting and grinding applications have been introduced by Metabo. Featuring a 7" or 9" wheel, the W23-180 and W23-230 grinders incorporate a two-step power switch at the rear of the tool, allowing users to tackle large jobs safely. Users must have the first button depressed to engage the power switch, preventing accidental turn-on during operation.

The tools feature a flexible rear handle that rotates 90° for comfort during cutting operation. A 3-position side handle for left- or right-handed operation allows users to turn the tool 90° to cut vertically, while still having a firm grasp on the grinder.

The grinders incorporate Metabo's Marathon motor with epoxy resin powder-coated field coils, which make the motor extremely resistant to destructive grinding dust and help prevent overheating. Also included in each grinder is a winding protection grid that deflects harmful airborne debris away from armature winding, increasing motor life by up to five times. The grinders feature an easy-to-use wheel guard that requires no tools to adjust, and auto-stop carbon brushes for longer service life.

The W23-180 is rated at 2,300 watts, has a torque value of 124 inch lbs., operates at 8,500 rpm using a 15.0 amp motor, and weighs 13.3 lbs. The W23-230 is rated at 2,100 watts, has a torque of 150 inch lbs., operates at a no-load speed of 6,600 rpm using a 15.0 amp motor, and weighs 13.6 lbs.

For more information, contact David Smith, Metabo Corporation, 1231 Wilson Drive, West Chester, PA 19380. Tel: 800/638-2264; Fax: 800/638-2261; Email: dsmith@metabousa.com; Web: www.metabousa.com.

Metabo, a leading international manufacturer of professional grade portable electric tools for industrial, construction and welding applications, has international headquarters in Nurtingen, Germany and U.S. headquarters in West Chester, Pennsylvania. The company has focused its product development on technological advancements in electronic circuitry and mechanical design, which has resulted in high performance, durable power tools. The name Metabo is German for "metal-boring," symbolic of the first tool -- a metal-boring tool -- manufactured by the company in 1924.
Related