Laminates add visual interest to interior spaces.
Press Release Summary: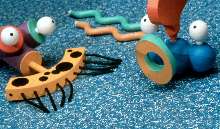 Patterns and woodgrains are offered in Armored Protection(TM) high pressure laminate and matching LamMates(TM) thermalfused malamine panels. The 19 patterns include edgy, muted, soothing, and natural designs intended for a variety of applications including healthcare pediatrics, retail, and hospitality.
---
Original Press Release:

Nevamar Introduces Serious Fun in 2002-03 Collection


Odenton, Md., November 7, 2002 - Nevamar's dynamic new collection for 2002/03 is an integration into an evolutionary Nevamar line that taken as a whole does what good design is supposed to do - it provides solutions. The nineteen completely new patterns and woodgrains are offered in Armored Protection(TM) high pressure laminate and matching LamMates(TM) thermalfused melamine panels. These new Nevamar patterns include some that are edgy, and some more muted, but all are highly energized and will be sure to add visual interest and excitement to interior spaces. "The line is a sensible collection in every sense of the word, beautiful when call for, provocative as necessary and fun when asked to be," notes Terrie O'Dell, senior product design manager.

Completely in-your-face fun is the latest Encounter color, Way Cool Encounter This delightful space critters sprinkled in the sky pattern now comes in high chroma Blue hue and joins the other two Encounter patterns, Close and Chance, which have been popular for several years. Cool rules the school, where Way Cool Encounter is expected to find its way into many applications, as well as those in hospitality, retail and even healthcare pediatrics.

Another playful pattern is Funky Chunky Fauxstone, a fun concoction of gum and ice cream colors in an unapologetically fake stone. The pattern's coloration emits a warmth that allows it to work easily with most woodgrains.

Among the other new offerings is the riveting Mysterious Crystals, where tonalities of pearlized ice crystals entangle the mind's eye. In a similar vein Frosty Aqua Aura exudes a watery, spa-like quality, making it perfect for environments made for pampering and healing. In complete contrast, Urban Renewal offers a re-energized replacement for tired old particleboard. Its yellow-orange hue and organic appeal kicks it a few steps above its cousins for mass-market applications.

The desire for using natural materials continues to be a trend in design, but affordability, fabrication and maintenance are always lurking concerns. Silver Metaphor exemplifies high pressure laminate's ability to mix concrete and metal to create a design that could be one or the other... but is neither. Silver doesn't begin to describe the color. Undertones push the silver toward bronze giving it depth and warmth, pit marks reveal a clean airy blue layer - this is what MIX is about!

Woodgrains or patterns? Wood Motif, an abstract woodgrain in two colorways, uses diffused squares to add radiance and luster to a softly grained wood design. Grayte Wood Motif is soft metal gray and Brilliant Wood Motif shimmers like bright yellow daylight.
Nevamar's new Chiasma pattern is a complex pattern that captures the illusive spirit of layers in a collage overlay. Introduced in three colorways: Earthlight Chiasma (a full-bodied, shimmering copper), Radiant Chiasma (lit by gold with a greencast overtone), and Camouflage Chiasma (marked by undertones of yellow-orange and blue-green), this
pattern crosses well into a variety of interior spaces

For more information on Nevamar's new energized high pressure
laminate collection for 2002/03, call (800) 638-4380, e-mail your request to nevamar.marketing@nevamar.com, or visit www.nevamar.com.

Nevamar Company is a leading diversified manufacturer of decorative surface products, including high pressure laminates, low pressure melamine panels, metal laminates, plus other decorative surfaces and panels used in commercial and residential interiors, store fixtures, furnishings and graphic arts.


More from Cleaning Products & Equipment