Laird Technologies to Demonstrate Thermobility(TM) Wireless Power Generators at Energy Harvesting & Storage Europe - Thermobility(TM) Series Provides Turn-key Solution for Design Engineers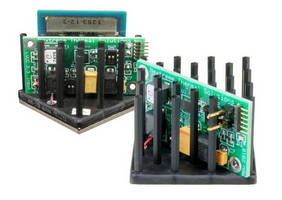 St. Louis, Missouri, USA – Laird Technologies, Inc., a leading global technology company, announced today that it will demonstrate its Thermobility™ Wireless Power Generator series at Energy Harvesting Storage Europe. The event will be held at the International Congress Centrum ICC Berlin in Berlin, Germany, April 17-18, 2013. Laird Technologies will exhibit at booths P7 and P8.



The Thermobility™ Series are self-contained thin-film thermoelectric power generators that harvest waste heat and convert it to usable DC power. Due to its compact size, ability to regulate voltage and store power, these products are ideal for powering wireless sensors, low power LEDs or trickle charge batteries where a heat source is readily available. When combined with Laird's eTEG™ embedded thermoelectric power generators, Thermobility provides turn-key solutions for design engineers as opposed to designing a complex thermal energy harvester.



"Thermobility is the ideal energy harvesting solution for autonomous, self-powered sensor networks," said Karl von Gunten, Laird Technologies Marketing Manager. "Our wireless power generation solutions can store energy and provide on-demand power while reducing the total cost of ownership by eliminating the prohibitive cost of battery replacement."



Laird's Engineered Thermal Systems Group will also showcase a new generation of thermoelectric power generators and embedded wireless solutions. The eTEG PG8000 Series is a new series of thin-film thermoelectric power generators that offer higher power, more robust mechanical design and ease of integration with common sources of thermal energy. Laird's wide range of embedded wireless solutions are designed to add true power and performance to any product including end-to-end solutions for M2M data acquisition and control.



Energy Harvesting & Storage Europe is the world's largest event covering energy harvesting and storage technologies and applications. The tradeshow brings together over 1,600 top level executives from more than 35 countries for networking opportunities along with the conference portion which features case studies, Masterclasses and world first announcements from leading companies in the energy harvesting and storage industry.



Through innovation, reliable fulfillment and speed, Laird is a trusted partner and supplier for many of the world's leading technology companies. As an industry leader in high-performance and cost-effective Thermal Management Solutions, Laird Technologies provides the knowledge, innovation, and resources to ensure exceptional thermal performance and customer satisfaction for applications in the medical, analytical, telecom, industrial, and consumer markets.



Contact Information

For additional information, visit http://www.lairdtech.com or contact us at:

Americas: +1-888-246-9050 ption 2

Europe: +46-31-704-67-57

Asia: +86-755-2714-1166 x374

e-mail: CLV-customerservice@lairdtech.com

 

About Laird Technologies, Inc.



Laird Technologies is a global technology company focused on providing components and solutions that protect electronic devices from electromagnetic interference and heat, and that enable connectivity through wireless applications and antenna systems.



Custom products are supplied to all sectors of the electronics industry including the handset, telecommunications, data transfer and information technology, automotive, aerospace, defense, consumer, medical, mining, railroad and industrial markets.



Laird Technologies, a unit of Laird PLC, employs over 9,000 employees in more than 47 facilities located in 16 countries.

More from Architectural & Civil Engineering Products