Ladder Stabilizer reduces movement and associated risk.
Press Release Summary: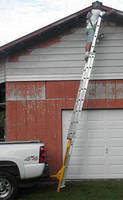 Attaching to 2 in. receiver hitch on vehicle by way of Monkeyrack Bolt-on Attachment, Monkeyrack Ladder Stabilization System helps eliminate extension ladder injuries caused by ladder movement. Vehicle acts as anchor to eliminate movement or shifting of extension ladder, and ground level installation provides secure climbing environment from first step. Design automatically sets extension ladder at recommended angle, enables installation in 3–5 min, and exceeds recommended points of contact.
---
Original Press Release:

Monkeyrack Introduces Enhanced Ladder Stabilization Product to Reduce Ladder Movement



BRADENTON, Fla. -- Monkeyrack Products LLC is pleased to announce an enhanced Ladder Stabilization product capable of delivering life-saving benefits for extension ladder users on the second annual anniversary of the OSHA hosted Construction Fall Safety Stand-Down Campaign. The National Fall Safety Stand-Down is part of OSHA's Fall Prevention Campaign, with support from multiple agencies including the National Institute of Occupational Safety and Health, National Occupational Research Agenda, Center for Construction Research and Training, American Society for Safety Engineers, and numerous other safety focused entities.



Extension ladders continue to be one of the most dangerous tools used and misused by workers and homeowners. According to 2011 statistics reported by the CDC on May 2, 2014, work-related falls from ladders caused 113 deaths, 15,500 nonfatal injuries; with approximately 40% attributed to the ladder moving.  Stand Tall, Stand Proud and Stand-Down for Fall Safety is taking on new meaning this year for the Monkeyrack Ladder Stabilization System as it aims to eliminate the most common cause of extension ladder injuries – ladder movement. The "moving ladder" scenario is eliminated by design, as the Monkeyrack Ladder Stabilizer utilizes a vehicle as the ladder anchor by securely attaching to a standard 2-inch receiver hitch.



With the recent development of the Patent-Pending Monkeyrack Bolt-on Attachment, the Monkeyrack can now be securely bolted to the receiver hitch, eliminating movement or shifting of the extension ladder.  The Monkeyrack removes the extension ladder's dependence on the ground conditions and its' ground level installation provides a secure climbing environment from the very first step. The design of the Monkeyrack Ladder Stabilizer automatically sets the extension ladder at the recommended angle, provides a user-friendly installation of 3 to 5 minutes, and significantly exceeds the recommended points of contact.



"Through implementation of innovative safety products, and a renewal of our commitment to our country's hard-working people, together, we can successfully achieve the goal set forth by NIOSH Director Dr. John Howard, stating that, 'No child should lose a parent, no wife should lose a husband, and no worker should lose their life in a preventable fall', states Julie Spicer, President at Monkeyrack Products LLC. She continues: "Consumer demand for innovative safety products became the driving force that contributed to the Monkeyrack Ladder Stabilizer to be awarded the People's Choice Award for Innovation for Fall Protection at the ASSE/ISHN Safety 2014 Conference."



About Monkeyrack Products LLC:

Designed for durability and strength, the heavy-duty steel construction of the Monkeyrack Ladder Stabilizer exclusively facilitates the use of a safety harness attached directly to the extension ladder, providing a second layer of fall protection, while also accommodating the utilization of a full range of standard fall protection devises, as deemed necessary. Visit www.monkeyrack.com  for more information.



Contact for Monkeyrack Products LLC: Julie Spicer, President at (941) 747-8697



RELATED LINKS

http://www.monkeyrack.com

More from Fluid & Gas Flow Equipment