Ladder Safety System is fall-arrest rated.
Press Release Summary: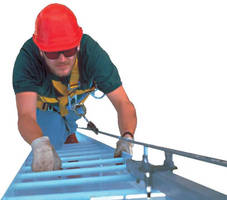 Climb Assist Ladder Safety System provides both climbing assistance and fall protection to workers ascending fixed ladder system within wind turbine tower. Utilizing 220 V motor, system is designed to lift between 45-120 lb, reducing worker fatigue and allowing for faster climbs. System includes top and bottom ladder bracket assemblies, motor assembly, and control panel, and can be installed using standard tools.
---
Original Press Release:
New Climb Assist Ladder Safety System from Capital Safety Provides Climbing Assistance and Fall Protection on Wind Turbines
Dual system is first-of-its-kind RED WING, Minn. - May 7, 2009 - DBI-SALA, a Capital Safety brand, introduces the Climb Assist Ladder Safety System for wind turbines. The system provides both climbing assistance and fall protection to workers ascending a fixed ladder system within a wind turbine tower. The Climb Assist Ladder Safety System, which is fall-arrest rated, is unlike any other system on the market because it does not require a separate or secondary fall protection system. This dual system saves time and money, simplifies safety and increases worker productivity. The Climb Assist system is designed to lift between 45 to 120 pounds, which effectively reduces the climber's weight by that amount, reducing fatigue and allowing for faster and easier climbs. Activation and deactivation of the system is quick and simple. To use, the climber attaches the Lad-Saf® Ladder Safety Sleeve to the cable system and to the front D-ring of his or her harness, activates the motor and begins climbing. The 220V motor is deactivated if the user stops climbing. If the user slips while climbing, the system will lock and arrest the fall, allowing the user to regain his or her footing and handhold. "Wind turbines can reach heights in excess of 300 feet," says Charley Bryant, product manager for hard goods with Capital Safety. "Fatigue can easily set in for workers climbing ladders that reach these heights, which can endanger the worker and lower productivity. The Climb Assist system increases safety, and saves time and money by providing an easier climb and eliminating the need to purchase an additional fall protection system." The Climb Assist Ladder Safety System includes top and bottom ladder bracket assemblies, the motor assembly and control panel. Standard tools can be used to install the system, which can also be easily retrofitted into short or tall wind turbines. Capital Safety, the world's leading designer and manufacturer of height safety and fall protection equipment with 11 operating sites worldwide, is home of the DBI-SALA and PROTECTA brands. All of Capital Safety's fall protection and rescue systems are backed by extensive training, knowledgeable technical assistance and professional customer service. For further information, contact Capital Safety at 800-328-6146, 651-388-8282 or visit them on the web at www.capitalsafety.com Contact: Jeff Halbach - North American Communications Manager 651-385-6212 or jhalbach@capitalsafety.com
More from Electrical Equipment & Systems