Ladder Guard prevents unauthorized use of ladders.
Press Release Summary: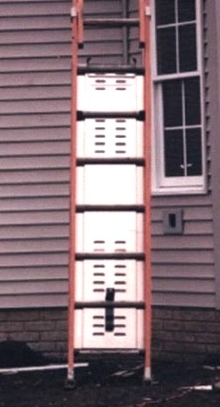 Self-contained Erie Ladder Guard is made of aluminum and measures 2 x 19 x 71.9 in. Locking device can be secured with padlock (not provided) to prevent lowering of upper section of extension ladder. Louvered design provides strength and reduces effect of wind travels on ladder. Guard promotes safety for children and prevents theft. It fits 95% of all standard and extension ladders.
---
Original Press Release:
Erie Industrial Products Co. Unveils Ladder Guard for Safety and Security
(Westchester, IL) May 15, 2002 -- Erie Industrial introduced a patented product called the "Erie Ladder Guard", a product designed to help prevent unauthorized use of unattended ladders. Unattended ladders are dangerous attractions for young children who cannot appreciate the dangers inherent in climbing unattended ladders. The Erie Ladder Guard is an alternative to breaking down ladders and scaffolding every single time a contractor leaves a job site. Compared with the cost of breaking down the ladder and scaffolding project, the ladder guard will pay for itself in one or two jobs. The ladder guard is a rugged self-contained unit that is easy to use and installs in seconds. It has a locking device that can be secured with a padlock (not provided) which prevents the lowering of the upper section of the extension ladder. The ladder guard, while promoting safety, is also anti-theft, in that a thief would have to steal the extension ladder in its extended form once the ladder guard is locked in place. Key Erie Ladder Guard features include: - Long lasting aluminum construction: measures 2" x 19" x 71.9"
- Fits 95% of all standard and extension ladders
- Louvered design provides strength and reduces effect of wind
- travels on the ladder
- weight 14 lbs For more information, contact: Tim Selleck, product consultant, at (708) 344-8200 ext. 218 or David Collins, vice-president, at (708) 344-8200 ext. 212 or Visit our website @ www.LADDERGUARDS.com About Erie Industrial Products Company
Erie Industrial Products, headquartered in Westchester, Illinois, has served the packaging equipment, computer hardware, food and beverage, machine tool, and newspaper print industries for over 40 years. In 1982, Erie became the first fabricator in the Chicago area to incorporate laser cutting into its job shop operations.
More from Electrical Equipment & Systems