Lacquer Spray Machine targets canmaking industry.
Press Release Summary: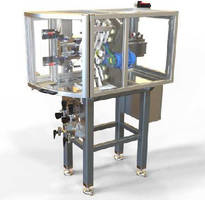 With advanced machine control system, 3200 Reformat™ Lacquer Spray Machine eliminates need for human-machine interaction. Servo-driven system is precisely and electronically controlled via smart technology, enabling manufacturers to monitor and control several machines from multiple locations throughout factory. Capable of modulating speed while maintaining critical process parameters, machine control system leads to reductions in spoilage and optimized can quality.
---
Original Press Release:

CMB Engineering to Launch New 3200 Reformat(TM) Lacquer Spray Machine at Cannex and Fillex 2015



Shipley, UK – CMB Engineering, a leading worldwide provider of canmaking machinery, is set to launch its new 3200 Reformat™ Lacquer Spray Machine, the first in its Reformat™ Range, to meet the evolving demands of the canmaking industry.



Developed by CMB's world-leading engineers, this is an industry-changing lacquer machine that offers dramatic improvements in process control.  The new advanced machine control system is adapted to modern IT environments and incorporates unique and smart technology, removing the need for a human-machine interaction.  The Servo-driven system is precisely and electronically controlled via smart technology, enabling manufacturers to monitor and control several machines from multiple locations throughout the factory.



There is an increasing trend of manufacturers developing new can sizes to meet the demand from brands and consumers alike. Canmakers are more often operating shorter runs which, in turn, increase the amount of changeover times during production. This new, smart technology offers unique functionality to help drive sustainable improvements, as there are no tools required during re-adjustment which targets and limits unscheduled downtime during production.



The New 3200 Reformat™ Lacquer Spray Machine is the first of the CMB's Reformat™ Range - in the future and, throughout CMB's portfolio of canmaking equipment, each machine will incorporate this smart technology, responding to the developing specifications that canmakers demand.



Andrew Truelove, General Manager at CMB Engineering said: "With our distinguished heritage and global footprint we are positioned to catapult canmaking equipment into the 21st century. The new 3200 Reformat™ Lacquer Spray Machine is just the beginning. We have an unwavering commitment to our customers to respond to their demands and create solutions that make their lives easier, whilst increasing their production efficiency and profitability."



The new advanced machine control system leads to reductions in spoilage and improvements in can quality, due to the ability to modulate speed whilst maintaining critical process parameters. More compact, reducing the footprint of the spray bank and offering better access for cleaning, the 3200 Reformat™ Lacquer Spray Machine offers a practical approach to energy efficiency, which delivers significant savings over the conventional spray machine.



CMB Engineering will be present at Cannex & Fillex Guangzhou 2015, 1-4 June, stand 627.



About CMB Engineering

CMB Engineering, based in Shipley, UK, is a market leader in the design, development and manufacture of canmaking equipment. With a pedigree dating back to the 1930s, CMB Engineering supplies equipment to a wide range of customers on six continents, including all of the major canmakers.



CMB Engineering is proud of its engineering expertise, which drives a continuous development and innovation program, designed to bring new cost-effective canmaking solutions to the market in a timely manner.



For more information, visit www.CMBEcanmaking.com



For more information, contact:

Marc Hoche, Head of Sales, CMB Engineering; Tel: +44 (0)1274 846 371; Email:

[email protected]