Labware Positioners add flexibility to liquid handling system.
Press Release Summary: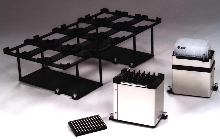 Automated Lab Positioners (ALPs) are designed for use with Biomek FX Liquid Handling System. Orbital Shaker ALP provides user-definable, automated shaking and resuspending directly on Biomek FX deck. Magnetic Bead ALP automatically raises and lowers interchangeable magnets while clamping microplates for accurate pipetting. ALP 4 x 3 kit provides 12 labware locations while occupying 9 positions on worksurface. Each location is accessible by gripper.
---
Original Press Release:

New Suite of Automated Labware Positioners Brings Added Flexibility and Functionality to Biomek(R) FX Worksurface



Fullerton, California, April, 2002 - Beckman Coulter, Inc. announces three new automated labware positioners (ALPs) for the Biomek FX Liquid Handling System - an Oribital Shaker Kit, a Magnetic Bead Kit and a 4 x 3 ALP Kit (providing 12 labware positions in the space of only nine). When used alone or in combination, these new ALPs provide greater flexibility and increased throughput on the Biomek FX system. Biomek FX has the highest capacity deck space available today, allowing application-specific devices to operate directly on the deck while a unique gripper moves entire stacks of plates. The system's interchangeable ALPs allow maximum flexibility while providing precise configuration and positioning of functional devices on the worksurface. The new Orbital Shaker ALP provides user-definable, automated shaking and resuspending directly on the Biomek FX deck. Ideal for a wide range of applications in life science and drug discovery research where homogenous solutions are important, this new shaker eliminates manual labware movements, for increased walk-away automation. The new Magnetic Bead ALP is ideal for applications involving paramagnetic particles (PMPs) in which target particles bind to magnetic beads and are subsequently isolated in a magnetic field. This new ALP automatically raises and lowers interchangeable magnets while clamping the microplates for accurate pipetting. The user has complete control over the height of the magnets, for precise positioning. The clamping function can also be used to flatten plates that may warp during thermal cycling, for even pipetting across the plate. The new 4 x 3 high-density ALP kit provides twelve labware locations while only occupying nine standard positions on the worksurface. Cutouts in each position allow placement of a variety of labware types, and each location is fully accessible by the gripper. Use of this new kit adds capacity while leaving the back row of deck space open, for additional devices and stations. "The bottom line for complicated experiments and higher throughput is to accommodate more functions on the deck," explains Jason Fawcett, Product Marketing Manager for Beckman Coulter. "This new suite of ALPs adds density and flexibility to our Biomek FX platform." Beckman Coulter, Inc. is a global biomedical company, headquartered in Fullerton, California. The company develops and markets instruments, chemistries, software and supplies that simplify and automate laboratory processes throughout the biomedical testing continuum. Through pioneering medical research and drug discovery, specialty testing, and patient care diagnostics, Beckman Coulter supports all phases of the battle against disease. Annual sales for the company totaled $2 billion in 2001, with 62% of this amount generated by recurring revenue from supplies, chemistry kits and services. For more information, access the Beckman Coulter World Wide Web Information Service at www.beckmancoulter.com or call (800) 742-2345 (U.S.). Fax (800) 643-4366 (U.S.). From outside the U.S. call (714) 871-4848, or Fax (714) 773-6611. Beckman Coulter, c/o K. Delgado, Sales Support Services/Harte Hanks, 1753 South Pointe Avenue, Ontario, CA 91761. Or e-mail to kdelgado@salessupport.com. Beckman Coulter, Inc. 4300 N. Harbor Boulevard Corporate Headquarters P.O. Box 3100 Fullerton, CA 92834-3100 www.beckmancoulter.com

More from Sensors, Monitors & Transducers