Laboratory Furnaces offer programmable controllers.
Press Release Summary: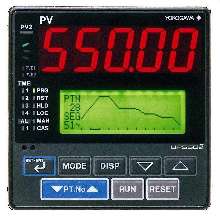 Linderberg/Blue M Laboratory Furnaces are available with Yokogawa single-setpoint and programmable microprocessor controllers. When setpoint is changed, Auto-Tune function adjusts and updates PID parameters. Intuitive Super Control suppresses temperature overshoot by using fuzzy logic to learn from previous ramp-up experience. Controllers provide 16 or 300 segments for ramping and dwell functions, depending on model. SPECVIEW PLUS® monitors and controls up to 30 furnaces from single PC.
---
Original Press Release:
Lindberg/Blue M Laboratory Furnaces Provide Enhanced Temperature Control Sophistication

ASHEVILLE, N.C., May 6, 2003 -- Versatile Linderberg/Blue M Laboratory Furnaces are now available with advanced Yokogawa single setpoint and programmable microprocessor controllers for more sophisticated temperature control functionality.

Integrated and stand-alone control consoles for Lindberg/Blue M furnaces feature an Auto-Tune function to provide the best control possible for each temperature setpoint. When the setpoint is changed, activation of the Auto-Tune function adjusts and updates PID parameters to the optimum settings for the new setpoint. Intuitive Super Control suppresses temperature overshoot by using fuzzy logic to learn from previous ramp-up experience.

Programmable controllers provide either 16 or 300 segments for ramping and dwell functions, depending on the model. 300 segment controllers can be reconfigured to 30 program patterns.

Controllers are available with an optional RS-485 digital communications port for remote monitoring and furnace control via a personal computer. SPECVIEW PLUS® software provides data logging of any variable, trend charts, a historic screen display, and the ability to monitor and control up to 30 furnaces from a single PC.

About Kendro

Kendro Laboratory Products is a global leader in products and services for Life and Materials Science, Drug Discovery and Bioprocessing. With world-renowned brands including Revco®, SORVALL® and Heraeus®, Kendro designs, manufactures and markets a wide range of equipment for sample storage, preparation and processing. Kendro Laboratory Products, a unit of SPX Corporation, employs more than 1600 associates around the world. The company serves its customers through an extensive network of direct sales, distribution partners and service representatives in over 150 countries. For more information about Kendro, please contact: Kendro Laboratory Products, 275 Aiken Road, Asheville, NC 28804 USA; Tel: (828) 658-2856; Fax: (828) 645-9466; or visit: www.kendro.com

More from Machinery & Machining Tools