Labels show evidence of tampering.
Press Release Summary: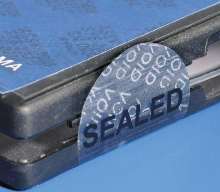 Designed for use with company's thermal transfer printers, B-7566 Gloss Clear Tamper Evident Polyester labels leave "void" footprint when material is removed. This provides physical evidence of tampering to discourage identity theft or label switching. "Void," also prominently displayed on removed label, prevents re-use of product. Labels can be customized in various ways to suit company requirements.
---
Original Press Release:
New Brady Tamper Indicating Labels Help Prevent Fraud and Theft

Custom Labels Show Physical Evidence of Tampering

MILWAUKEE, WI (June 11, 2004) -Brady (NYSE:BRC) Corporation of
Milwaukee, has a new label material in their tamper indicating
product line. Designed for use with Brady's complete line of thermal transfer printers, these labels provide physical evidence of tampering to discourage identity theft or label switching.

Brady's B-7566 Gloss Clear Tamper Evident Polyester leaves a "void" footprint when the material is removed. "VOID" is also prominently displayed on the removed label so it cannot be reused. These labels, used to show evidence of package or product tampering, can be customized in various ways.

Brady is committed to helping companies protect their products and brand name investment. Brady's research and development, coating and secure converting capabilities - coupled with proven authentication technologies - supply chain control, and integration services, provide for a world-class approach to tamper prevention and brand protection.

For additional information, please contact the Brady
Brand Protection Solution Center at 1-800-297-5778 or visit http://www. bradyid.com/brandprotection.

Brady (NYSE:BRC) Corporation is an international manufacturer and marketer of complete identification solutions and specialty materials, with products including high-performance labels and signs, printing systems and software, label-application and data-collection systems, safety devices and precision die-cut materials for electronics, telecommunications, manufacturing, electrical, construction, laboratory and a variety of other markets. Founded in 1914, Brady is headquartered in Milwaukee and employs more than 3,400 people in operations in the United States, Europe, Asia/Pacific, Latin America and Canada. Brady's fiscal 2003 sales were approximately $555 million. More corporate information is available on the Internet at
www.bradycorp.com.

Dennis Polinski

Brady Corporation

414-228-5997

Dennis_Polinski@bradycorp.com

Or

Marilyn McGair

262-523-3940 Ext: 102

cell phone: 262-751-9403

marilyn@marketingimages.com
More from Thermal & Heating Equipment