Labeling System helps track batch compounds.
Press Release Summary: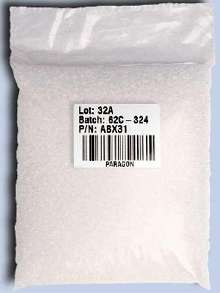 Producing self-adhesive label made from 160 EVA film, Lomel Labeling System enables rubber mixers to identify and track batch compounds before they are put into mixer. System is comprised of Zebra 105SL printer and HHP Dolphin 9500 mobile handheld computer. Label accepts bar codes as well as descriptive information such as dates and product names. With melting range of 160 to 165°, it completely dissolves in mix without contaminating it.
---
Original Press Release:

Paragon Data Systems Announces Lomel® Labeling System


Saves Rubber Mixers Money by Providing a Safe and Accurate Way to Identify and Track Batch Compounds

Cleveland, Ohio-Paragon Data Systems, the premier provider of barcode and data collection solutions, announces the Lomel Labeling System. This innovative system, featuring a label made from the same 160 EVA film as the J. Drasner Lomel batch-inclusion bag, offers a safe way to identify and track batch compounds. Paragon's Lomel Labeling System is designed to help rubber mixers accurately identify bags of ingredients thus eliminating errors and ensuring that the right bag is put into the mixer.

With a melting range of 160° to 165°, Paragon's Lomel label completely dissolves in the mix without contaminating it. Rubber mixers can print bar codes that identify the bag and any descriptive information, including dates and product names, all on the same label. Additionally, operators can scan bags for validation or lot traceability before putting the bag in the mixer. Because each bag is clearly identified, users can virtually eliminate any waste.

"Paragon's Lomel Labeling System is an incredibly easy way for rubber mixers to save money and ensure accuracy," said Larry Laurenzi, President of Paragon Data Systems. "Users just print the bar code or human readable information on the label, apply it to a batch-inclusion bag, add the bag into the mix and watch the label dissolve and become part of the mix."

Pargon can provide users with a turn-key labeling system including the labels, ribbons, printer, software and bar code data collection system. The Paragon Lomel Labeling System features a Zebra 105SL printer and an HHP Dolphin 9500 mobile handheld computer. The Zebra 105SL is an industrial printer especially designed to produce crisp and clear text, bar codes and graphics on Lomel labels. The HHP Dolphin 9500 mobile handheld computer provides a means of collecting the bar code data and performing ingredient validation. Data can be stored in the hand held or transferred realtime using wireless communications. In addition, Paragon has developed software, which allows users to create and maintain the integrity of the batch.

About Paragon Data Systems

Paragon Data Systems, Inc. is an Ohio-based Corporation specializing in the automatic data collection (ADC) industry. Paragon sells, implements, and integrates related software, computers, data collection terminals, laser scanners, thermal printers, printer ribbons, bar code labels, and wireless network solutions for areas as small as office environments to areas as large as arenas and parks. In addition, Paragon offers customized long-term service programs for the products it sells. For more information about Paragon Data Systems, please contact, 800-211-0768 or visit www.paragondatasystems.com.

Related