Labelers offer stay-clean vacuum drum option.
Press Release Summary: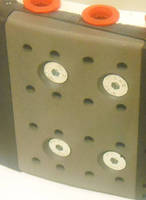 Available as option on all roll-fed labelers and as aftermarket upgrade for installed Marathon®, BH8000, BH8000S, BH8000U, and BH1600 labelers, Invation(TM) Stay Clean Vacuum Drum features Dura-Motion(TM) aluminum inserts, which minimize build-up of adhesive particles on vacuum drum and translate into fewer stuck labels and stoppages. Drum also features No Break-In pad finish, which eliminates break-in process for new and re-padded vacuum drums.
---
Original Press Release:

B & H Labeling Systems Introduces Invation(TM) Stay Clean Vacuum Drum for Roll-Fed Labelers



B & H Labeling Systems introduces the Invation(TM) Stay Clean Vacuum Drum. Available as an option on all new B & H roll-fed labelers and as an aftermarket upgrade for installed Marathon®, BH8000, BH8000S, BH8000U and BH1600 labelers, this high performance vacuum drum stays clean during operation. Compared to traditional vacuum drums, the Invation Stay Clean Vacuum Drum reduces stoppages to clean the drum, which increases uptime and maximizes production output.

Glue residue build-up is unavoidable on traditional vacuum drums. When the glue build-up disrupts the labeling process, the operator must stop the line to clean the drum.

Invation Stay Clean Vacuum Drums operate on a simple principal - if the drum stays clean, you don't have to clean it. Invation Stay Clean vacuum drums feature Dura-Motion(TM) aluminum inserts in specific areas of each vacuum drum. The proprietary Dura-Motion finish on the inserts minimizes the build-up of adhesive particles on the vacuum drum, which translates into fewer stuck labels, fewer stoppages to clean the vacuum drum and ultimately longer production runs. The Invation Drum also features B & H's No Break-In pad finish, which eliminates the break-in process for new and re-padded vacuum drums.

Invation Stay Clean Vacuum Drums have been in trials since early 2008 with four demanding, high-volume customers. The feedback from these four customers has been overwhelmingly positive - they have reported uninterrupted production runs of three to over 12 hours using the new drums.

"This new B & H drum design is great," reported Michael Meetze, Packaging Engineering Manager at Amcor PET Packaging in Blythewood, South Carolina USA. "We have seen a substantial decline in stoppages to clean the drums, and the impact has been a noticeable improvement in our total line operating efficiencies."

Existing customers with Marathon, BH8000, BH8000S, BH8000U and BH1600 labelers can purchase new Invation drums or return their current vacuum drums to B & H to be reworked into the Invation Stay Clean design. This Core Exchange Program allows B & H to reuse the drum, which saves money and helps the environment by reusing a valuable natural resource.

Based on increasing productivity by reducing line stoppages, the Invation Drum delivers a payback measured in months. To quantify the financial impact, customers can leverage B & H's proprietary Total Financial Impact model at no cost and with no obligation.

About B & H Labeling Systems

Since introducing the first roll-fed labeling system 40 years ago, B & H Labeling Systems has been known worldwide for innovation, dependability and responsive customer service. B & H maintains its role as a dedicated labeling solutions provider by successfully developing new labelers and applications for multiple industries, and by supporting a wide range of customers and B & H labelers with parts and technical service, regardless of the age or model of the machine.

Reader Inquiries:

Marisa Jacobson

B & H Labeling Systems

P.O. Box 247, 3461 Roeding Rd.

Ceres, CA 95307 USA

Tel: 209 537 5785 Fax: 209 537 6854

marketing@bhlabeling.com

www.bhlabeling.com

More from Electrical Equipment & Systems