Labeler/Printer enhances pharmaceutical packaging serialization.
Press Release Summary: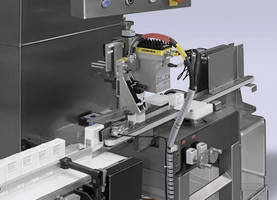 Depending on end-user requirements, modular CPS (Carton Printing System) prints 1D or 2D data matrix codes on up to 400 folding cartons per minute. Camera system enables both codes to be checked on different carton qualities with maximum reliably, and products are automatically sorted out if data matrix codes' contrast and readability do not conform with required quality. Ability to connect to machine software and company IT in multi-level process ensures reliable serial number attribution.
---
Original Press Release:

Bosch Expands CPS Portfolio for the Serialization of Pharmaceutical Packaging



Equipped for regulatory requirements worldwide

Quick format changes thanks to user-friendly design

Intelligent connection of machine and software

Reliable serialization and application of safety seals



Bosch Packaging Technology, a leading supplier of process and packaging technology, has expanded its portfolio for the serialization of pharmaceutical packaging. In the fight against counterfeit drugs, many countries are about to implement legislation changes for a stricter labelling of pharmaceuticals. Consequently, drug manufacturers require safer and more flexible solutions. "With our serialization concept, we offer customers more than just a machine," explains Daniel Sanwald, product manager at Bosch Packaging Technology. "Bosch offers the complete package, which also includes the corresponding IT."



Connection of machine and software

The CPS (Carton Printing System) forms the basis of all serialization solutions from Bosch. It has been continuously developed regarding flexibility and user-friendliness. Depending on customer requirements, the system prints 1D or 2D data matrix codes on up to 400 folding cartons per minute. Thanks to an upgrade of the camera system, both codes can now be checked on different carton qualities even more reliably. If the contrast and readability of the data matrix codes do not conform with the required level of quality, the products are automatically sorted out. The machine is easy to operate from the front, so that mechanical components are easily and quickly accessible in case of format changes. An optimized threading of the labelling tape reduces downtime of the CPS 1900 to a minimum.



The CPS systems can be connected to both machine software and company IT in a multi-level process, ensuring that serial numbers are attributed reliably. Therefore, Bosch Packaging Technology has adapted the proven automation technology from Bosch's automotive sector to the specific requirements of the pharmaceutical industry. "This experience enables us to offer our customers IT solutions that not only process the entire order management; they also control both import and export of the serial numbers," Daniel Sanwald explains. Depending on country and guideline, the numbers are either allocated centrally or generated by the company. Contract manufacturers in turn receive the numbers from their clients. According to Sanwald, "our IT system is equipped for all three cases. The Bosch machines can also be flexibly combined with systems from other IT providers." The IT concept has further advantages for production companies: production parameters and data of all packaging lines are clearly visible at all times. "For instance, in the case of unforeseen events like downtime or modification, capacities are automatically re-planned," Sanwald says. "The connection of our machines with the corresponding IT offers companies a new production foresight."



Modular design for additional safety

Thanks to its modular design, the CPS system can be extended by further modules. For example, a weighing module inspects the weight of each folding carton individually. Existing machines can also be equipped with a Tamper Evident module. The labeller applies additional safety seals across the side flap of the folding carton, thus offering optimum protection against manipulation. Sensor systems carry out safe and reproducible checks of seal presence and correct application. The machine and all applications, such as the camera, are operated via a single HMI (Human Machine Interface). "The operator has a uniform look and feel, and does not need to switch between different HMIs. Moreover, this makes the central audit trail a lot easier," Sanwald underlines.



Growing global need for serialization

According to the Bosch experts, the need for serialization technology will continue to grow over the coming years. Amongst others, 2015 will see the implementation of new guidelines in Saudi Arabia, where drug packaging must be equipped with a data matrix code step by step, followed by serial numbers in 2016. In Brazil, individual batches must be serialized as of 2015, before it becomes obligatory the following year. The U.S. Food and Drug Administration (FDA) aspires to implement a standardized identification for all prescription drugs in form of a 2D data matrix code in a step-by-step approach until the end of 2023. The European Union's Falsified Medicines Directive 2011/62/EU stipulates coded packaging with a 2D data matrix code and a unique serial number for nearly all prescription drugs, presumably from the first quarter of 2018. With the flexible serialization solutions from Bosch, pharmaceutical manufacturers are well-equipped for all regulatory requirements worldwide.



Contact:

Daniel Sanwald

phone: +49 711 811-57319



Based in Waiblingen near Stuttgart, Germany, and employing 5,600 associates, the Bosch Packaging Technology division is one of the leading suppliers of process and packaging technology. At over 30 locations in more than 15 countries worldwide, a highly-qualified workforce develops and produces complete solutions for the pharmaceuticals, food, and confectionery industries. These solutions are complemented by a comprehensive after-sales service portfolio. A global service and sales network provides customers with local points of contact.



Additional information is available online at www.boschpackaging.com



The Bosch Group is a leading global supplier of technology and services. In 2013, its roughly 281,000 associates generated sales of 46.1 billion euros. (NB: Due to a change in accounting policies, the 2013 figures can only be compared to a limited extent with the 2012 figures). Its operations are divided into four business sectors: Mobility Solutions, Industrial Technology, Consumer Goods, and Energy and Building Technology. The Bosch Group comprises Robert Bosch GmbH and its roughly 360 subsidiaries and regional companies in some 50 countries. If its sales and service partners are included, then Bosch is represented in roughly 150 countries. This worldwide development, manufacturing, and sales network is the foundation for further growth. In 2013, the Bosch Group invested some 4.5 billion euros in research and development and applied for some 5,000 patents. This is an average of 20 patents per day. The Bosch Group's products and services are designed to fascinate, and to improve the quality of life by providing solutions which are both innovative and beneficial. In this way, the company offers technology worldwide that is "Invented for life."



Further information is available online at www.bosch.com and www.bosch-press.com, http://twitter.com/BoschPresse.