Label/Sign Printer is suited for medical professionals.
Press Release Summary: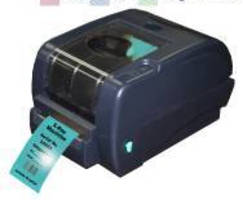 Printing on ½-4 in. width tapes and die cuts at speeds to 2 ips with 300 dpi resolution, DuraLabel LabPRO can produce bar codes and pipe markers as well as everything in-between. Printed materials last for years, indoors or outdoors, and system is compatible with any Windows® 2000 or newer OS. USB and parallel ports are available for connecting to PC/laptop, and optional rechargeable battery enables in-field use. It allows printing of ~500, 4 x 8 in. labels on full charge.
---
Original Press Release:

New Medical Label Printer Creates Versatility for Medical Professionals



Beaverton, Oregon - July 16, 2009 - The DuraLabel LabPRO, a new medical label and sign printer engineered for medical professionals, teaches other medical label printers a lesson in versatility.

Printing on ½" to 4" width tapes and die cuts at speeds of up to 2" per second, the LabPRO is an innovative medical label and sign printer with the versatility to print both bar codes and pipe markers-and nearly everything in between. It can be used by anyone from a nurse to a facility manager.

"For medical professionals, the ways in which a LabPRO Medical Label & Sign Printer can be utilized are limitless," said Daniel Evans, assistant marketing manager at Graphic Products, Inc. "Hospitals, laboratories and medical facilities have discovered simplified meaning to identification and inventory with the LabPRO."

Printing at 300 dots per inch, the DuraLabel LabPRO differentiates itself by bringing clarity to labels and signs that last for years, indoors and outdoors. Though DuraLabel claims versatility as the LabPRO's main platform, it is clear that one of the LabPRO's biggest strengths is its ability to produce readable bar codes.

"Today's hospitals and laboratories have found the bar code to be a most efficient method for tracking medical records and medical device labeling," said Evans. "Medical professionals are discovering the DuraLabel LabPRO is just the medical label printer for bar codes because of its clear, detailed and durable thermal transfer printing."

While it is popularly known for its medical "barcodeability," as Evans sprightly stated, he insists customers remember the printer goes well beyond printing bar codes in its functionality and resourcefulness.

Using the LabPRO Medical Label & Sign Printer, medical workers can identify and track equipment and medical devices like wheelchairs, gurneys, stretchers, lab kits, surgical instrument boxes, Petri dishes and test tubes. Labels and signs for wayfinding, restricted areas, office hour information, wire wraps, pipe markers and OSHA safety messages also can be easily printed with the LabPRO.

The LabPRO, which houses USB and parallel ports to connect to any PC or laptop, is compatible with any Windows® 2000 or newer operating system. Labels and signs are designed by utilizing pre-installed templates that open with Microsoft Word® and Excel®, or OpenOffice®. An optional, rechargeable printer battery means the printer can be taken on service calls into the field. The battery prints approximately 500 4" x 8" labels on full charge.

The LabPRO prints on many continuous tapes and die-cut labels, specially engineered for many medical applications. Labeling supplies include:


Electrostatic Dissipative (ESD) Label Tape
Universal Medical Label Tape
MedTag Supply
Cryogenic Color-Code Supply
SlideChem Label Supply
Frozen Specimen Label Supply
Autoclavable Label Supply

Over 30 colors of continuous vinyl are available, and additional colors are available by special order. Ribbon colors are available in eight colors. Die-cuts are imprinted on white labels with code-compliant headers and colors.

The DuraLabel LabPRO Label & Sign Printer comes with the Industrial Labeling Suite software package, which includes the following:


Printer drivers

500 ready-to-use label and sign templates
Image library with 250 medical and safety symbols
RTK label module with database of over 1,700 chemicals
Arc flash label module
Programmable bar code package
Label design tutorial

Optional DuraLabel LabPRO medical printer accessories are also available: a hard, protective carrying case; a dust cover; a car adapter; and a portable, rechargeable battery pack.

The LabPRO Medical Label & Sign Printer and its supplies may be ordered by calling Graphic Products at 1-800-788-5572. For more information, visit http://www.duralabel.com/duralabel-lab-pro/.

Graphic Products is a leading label printer and supplies dealer. It has been supplying industrial label and sign printers and supplies to industry since 1970. It is the manufacturer of the DuraLabel brand of printers that include the handheld DuraLabel 2000 up through the wide format DuraLabel 9000, and it also carry a wide variety of labelers made by other manufacturers. In addition to DuraLabel, it stocks label printer brands such as Brady, Kroy, Brother, K-Sun, Dymo and Varitronics. It also stock supplies for discontinued label printers. Graphic Products specializes in fast, same-day shipping to meet its customers' just-in-time delivery requirements. The Graphic Products Web site is located at: www.graphicproducts.com/. Printers and supplies may be ordered by calling 1-800-788-5572.

More from Controls & Controllers