Label/RFID Software offers revision control, print utilities.
Press Release Summary: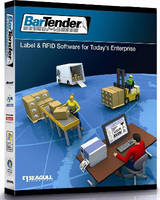 Formally validated for operation on Windows® 7 OS, BarTender Label Management Suite v9.2 lets users acquire images directly from scanners and cameras as well as make changes to graphic images once imported. Librarian companion application, included, lets groups of users cooperatively and securely manage storage and revision of label formats and other files. Also included, Commander middleware utility can return print job status information to controlling programs.
---
Original Press Release:

BarTender 9.2 from Seagull Scientific Includes Revision Control, New Print Utilities, Direct Camera and Scanner Interface, and More



Bellevue, WA, October 21, 2009 - Seagull Scientific released version 9.2 of their BarTender label and RFID software on October 20th, 2009. The new release includes three new companion applications that simplify printing and the administration of label format changes. Version 9.2 also includes the ability to acquire images directly from scanners and cameras, as well as make changes to graphic images once they have been imported. Seagull says that this is the first version of BarTender formally validated for operation on the recently-released Windows 7 operating system.

New "Librarian" Provides Secure Revision Control
Front and center is the new Librarian companion application. Librarian lets large groups of users, designers and administrators cooperatively and securely manage the storage and revision of label formats and other files. Special attention was paid to the document management and audit preparation needs of users operating in agricultural, pharmaceutical, military and other highly-regulated environments. Files are easily "dragged" from Windows into a secure database managed by Librarian. Users with the necessary rights can then "check in" and "check out" files, with designated administrators also being allowed to transition the files between user-defined "states," such as Proposed, In-Process, and Published. Librarian supports full "rollback" to earlier file versions as needed.

Two New Print Utilities
Most users have traditionally printed BarTender labels from directly inside the BarTender design environment or under the control of other programs. Now, two new utilities offer expanded options. The new BarTender "Print Station" gives non-technical users easy point-and-click label printing without ever having to see the inside of a label design program. The entire Print Station screen is dedicated to preview images of a user's available label formats. Users simply click on a desired label format to launch a print job. Print Station can be locked into an optional "Full Screen Mode," which allows PCs to be used as dedicated print stations.

Also new, the Batch Maker utility makes it easy to select multiple label formats and group them together for printing as a single "batch." Batches can then be printed from within Batch Maker itself, as well as from BarTender, Print Station, and Windows Explorer.

Better Preparation for Quality Audits
"The new Librarian utility in particular puts a big exclamation mark on a very important trend that we first started with version 9.0 of the BarTender Label Management Suite," said Russ Clark, Seagull's global director of sales. "The new, larger family of companion applications addresses a wide variety of important functions vital to supporting operations in the enterprise space. This includes user and group-based security, enterprise print management, print job logging, and even the reprinting of old labels. And now, users that combine Security Center and History Explorer with the new Librarian utility should be ready for just about any kind of quality audit they are likely to encounter."

More New Features
BarTender 9.2 also expands the power of the Commander middleware utility, which can now return print job status information to controlling programs. Other new features include the ability to acquire graphic images directly from cameras and scanners, instead of just existing files. In addition, a new Image Processing screen allows many of the basic brightness, contrast, hue and other color adjustments that one might perform inside of a separate graphics program to be performed directly inside of BarTender instead.

Compatible with Windows 7
BarTender 9.2 is the first version of BarTender formally tested for compatibility with Windows 7, which was released just 3 days after BarTender 9.2. Seagull says that their extensive test plan for Windows 7 ran for more than three months, including the final month using an official pre-release copy identical to what Microsoft will be shipping. After Seagull passed their own compatibility tests, they applied to Microsoft for use of the "Compatible with Windows 7" logo. Initial results show that their application has passed the Microsoft tests. However, Microsoft says that it could be a number of weeks before Seagull has their formal approval to display the new logo. Seagull reports that they released BarTender with no known compatibility problems.

More Information
To learn more about version 9.2 of the BarTender Label Management Suite, you can visit www.seagullscientific.com for free downloadable Trial Editions, brochures, and a variety of technical white papers.

About Seagull Scientific
Established in 1985, Seagull Scientific is a pioneer in the development of Windows-based label software. They produce the award-winning BarTender label and RFID software package and are the world's largest developer of Windows printer drivers for label printers. Headquartered in Seattle, WA, USA, Seagull has branch offices in Spain, Taiwan, U.K., and Japan. With software and documentation translated into more than 20 languages, Seagull sells its products through a large network of resellers in over 85 countries. Further information is available at www.seagullscientific.com.

More from Fluid & Gas Flow Equipment