Label Printers withstand harsh industrial environments.
Press Release Summary: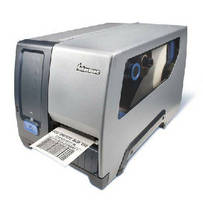 Designed to print small barcodes, text, and images, metal-constructed Model PM43 and compact Model PM43c feature color touchscreen, choice of 10 languages or universal icons, and web-based user interface. Printers can be monitored from anywhere via handheld computer, laptop, smartphone, or tablet using WiFi or Ethernet connection. With smart printing capabilities, users can create stand-alone applications through embedded programming language and directly control other devices through printer.
---
Original Press Release:

Intermec Strengthens Printer Portfolio with Industry's Fastest Mid-Range Industrial Label Printers



Third generation industrial printers maximize uptime and reduce maintenance costs

EVERETT, Wash., - Intermec, Inc. (NYSE: IN) today announced the PM43 and PM43c industrial mid-range label printers, featuring the fastest throughput in their class. Suited for harsh industrial environments including transportation, manufacturing and distribution centers, the metal-constructed PM43 and more compact PM43c printers are built to perform by increasing uptime and reducing maintenance costs.

Built on more than 40 years of printing innovation history, the PM43 and PM43c mark the newest additions to Intermec's industry leading line of rugged industrial printers. The printers offer the ultimate in reliable and intuitive communication options with a unique full color touch-screen, featuring a choice of 10 languages or easy to use universal icons, and a multi-lingual intuitive web-based user interface. The printers also reduce IT support needs with integrated device management, allowing the printers to be monitored from anywhere in the world via Intermec handheld computers, laptops, smart phones or tablet computers using WiFi or Ethernet connection.

"The PM43 and PM43c industrial printers join Intermec's recently launched series of desktop printers and mobile receipt printers to round out three new, innovative and future-proofed printing solutions designed specifically to meet the demanding challenges faced by our customers worldwide," said Chuck Dourlet, Intermec Vice President of Printers & Media.

With support for Precision Print, the PM43 and PM43c maximize uptime and reduce frequent media adjustments. The printers print small barcodes, text and images with pinpoint accuracy to save industrial customers time and money. The PM43 and PM43c also offer the fastest deployment time in the market with innovative no-touch configuration via an optional embedded RFID chip. This patented capability eliminates 80 percent (for one device) to 99 percent (for multiple devices) of time and resources in deployments by allowing the printers to be configured without having to open the printer box or power up the devices.

The PM43 and PM43c printers also deliver advanced connectivity features to increase productivity and deliver process efficiencies. As the industry's only industrial printers available with WiFi- and CCX-Certification and with additional Bluetooth connectivity, the printers offer a leading range of industry standard and supported wireless connectivity options. Each printer also comes equipped with Ethernet connectivity and network protocol IPv6 to ensure long-term enterprise scalability and investment protection.

The PM43 and PM43c also help to reduce labeling errors and increase process efficiencies with Intermec's industry leading smart printing capabilities, enabling users to easily create stand-alone applications developed through the embedded programming language and allowing users to directly control other devices such as scanners, scales, keyboards and other peripherals through the printer.

"As the costs related to manufacturing operations continue to climb, it is imperative for companies to have reliable, efficient and intuitive technology solutions. Intermec's PM43 and PM43c printers are designed to deliver workers the quality and speed needed for industrial printing jobs, while instinctively working with other peripheral industrial technologies," said Richa Gupta, Barcode Analyst, VDC Research Group. "With enhanced connectivity options and seamless integration, Intermec is showcasing its dedication to minimize operational downtimes and enhance process efficiencies."

Dan Hare, Vice President of Matrix Systems, Inc., which recently won "Technology Innovator of the Year" at the Intermec Partner Summit Event in January 2012, said "Matrix has always considered smart printing to be a brilliant innovation, and Intermec's next-generation PM43 industrial printer continues to revolutionize industrial thermal printing to help maximize uptime and simplify operation and setup."

The new PM series mid-range industrial printers are available globally through Intermec distribution channels.

For more information, visit www.intermec.com. To follow more from Intermec, visit Intermec's Trends & Technology blog or www.twitter.com/intermec.

About Intermec

Intermec Inc. (NYSE:IN) develops and integrates products, services and technologies that identify, track and manage supply chain assets and information. Core technologies include rugged mobile computing and data collection systems, voice solutions that increase business performance, bar code printers, label media, and RFID. The Company's products and services are used by customers in many industries worldwide to improve the productivity, quality and responsiveness of business operations. For more information about Intermec, visit www.intermec.com or call 800-347-2636.