Label Printer produces graphic branding.
Press Release Summary: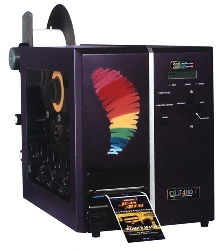 Model QLS-4100 X digital, 4-color label printer utilizes thermal transfer printing technology. Labels and tags are produced instantly, in full process color, without printing plates. Print runs range from 10 labels to 100,000 labels. VIP (Variable Information Printing) printer offers 7 ips print speed, on-board microprocessor, and smart label sensor. All-metal construction incorporates 1/2 in. thick rigid backbone plate.
---
Original Press Release:
New Full-Color Digital Label Printer; Instantly Prints Graphic Product Labels Without Printing Plates

A new 4-color digital label printer has been introduced by the QuickLabel Systems Product Group of Astro-Med Inc., West Warwick, RI. Designated the QLS-4100 X, the printer is QuickLabel's 4th generation full-color digital label printer utilizing thermal transfer printing technology. Designed for in-house use, the new printer produces labels and tags instantly, in full process color, without printing plates.

While flexographic printing costs force users to purchase large minimum print quantities in the thousands of labels, QLS-4100 X print runs are cost-effective for both small and large quantities, from 10 labels to 100,000 labels.

The QLS-4100 X tabletop printer satisfies the growing demand of large and small companies to produce custom labels on a just-in-time basis, in-house, cost-effectively. It is ideally suited for companies that require fast turnaround of products labeled with both graphic branding and tracking information. This VIP (Variable Information Printing) printer is especially suitable for manufacturers who private label their products for resellers or mass customize products for end-users.

Ideal applications for the QLS-4100 X include printing of labels, tags, and package inserts. The printer is also ideal for e-fulfillment of consumer and industrial products, custom, color-coded product tracking labels. Industries that embrace the value of on-site color label printing include manufacturers of foods and beverages, pharmaceuticals and nutriceuticals, hardware and electronic products, medical devices and supplies, apparel, advertising specialties, horticulture, beauty aids, and many more who require attractive labels to promote sales.

According to the company, anyone with an ordinary PC can produce striking color labels in minutes. Hundreds of label formats, complete in every detail, can be stored in the computer and called up and printed instantly. Companies can print attractive product labels on site and eliminate inventories of printed labels.

The superior print quality of the QLS-4100 X is due to significant design enhancements to earlier models which were first introduced in 1994. Superior printed image quality is achieved by precision control of ribbon and label material and the use of advanced printheads which allow exact dot placement.

With a 7 ips print speed and on-board microprocessor for fast printing of variable information, the printer is easy to operate. Streamlined print station configuration, smart label sensor, and smoother and quieter operation create a user-friendly printing system, which requires minimal setup time.

The printer features a faster and more precise version of RibbonRation®, a fully automatic system for economizing printer consumables. RibbonRation makes both long and short print runs even more cost-effective by selectively using ink-transferring thermal transfer ribbon according to a digital map of each label. This technology is patented by QuickLabel Systems.

The QLS-4 100 X's all-metal construction incorporates a 1/2" thick rigid backbone plate for precise control and consistent performance. With highest quality bearings, switches, and components throughout it is designed for high-volume industrial production environments. The QLS-4 100 X is a primary component of QuickLabel's complete product line, including the QLS-2000 and QLS-3000 series of color label printers, Color QuickLabel 99 Pro(TM) advanced label design software, thermal transfer ribbons, and label and tag materials. Important and useful accessories include label rewinder, cutter and care label cutter-stacker.
More from Optics & Photonics