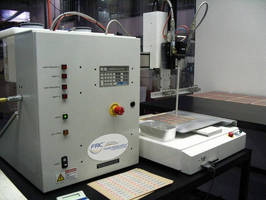 Fluid Research® Corporation (www.fluidresearch.com) offers solutions for dispensing optically clear single and dual component materials accurately.

Domed labels are printed or embossed labels encapsulated in a thick resin coating - generally optically clear. Traditionally associated with high-end consumer goods, they are becoming common in medical devices, home appliances and cars, as well as industrial equipment and promotional items.

Generally, material is available in either single component UV Curable or dual component form factors. UV Curable needs to have a UV light to properly cure the domed product. One of the benefits of single component UV curable materials is the accelerated cure time and no mixing since the material is one component. Dual component optically clear materials can also feature rapid curing via Infra-Red curing. Another benefit to dual component optically clear materials is a potential cost savings for dual component versus single component.

Steven Label of Santa Fe Springs, CA would contract doming operations, but as demand grew, the company decided to take the job on itself in order to ensure both quality and predictability.

"In the past, doming was one of the few operations that we contracted out," says Ken Klein, Steven Label's director of engineering. "As with any subcontracted work, we had less control of lead times than we would have with an in-house operation, and this sometimes created problems for our customers."

The company purchased a PluraShot(TM) dispenser, which uses a progressive cavity pump for two-part polyurethane doming resins. The machine is equipped with a three-axis robot and programmable microprocessor that stores dispensing coordinates, shot sizes and other data for all production runs.

The PluraShot can be programmed for shot sizes from as low as 1.2 cc through continuous flow. It handles material viscosities up to 50,000 centipoise. Typical shot sizes (by weight) for Steven Label are 1 to 4 grams, depending on the specific label design. With the custom manifold, individual shots as small as 0.15 cc are possible. The unit can handle mix ratios from 1:1 to 20:1, with flow rates as low as 0.1 centimeter per second to as high as 6.0 cc per second.

According to Klein, the company can dispense from up to six points at a time using a single static mixing tip. He says this is especially advantageous when working with sheets that hold as many as 150 labels.

"Most of our domed products are between 1 and 10 square inches in size," says Klein. "But now we have the capacity to manufacture this type of label anywhere from 0.5 to 15 square inches."