Impeller / Propeller / Turbine - Agitators / Mixers
Lab Resin Mixer handles small batches of viscous liquids.
Press Release Summary: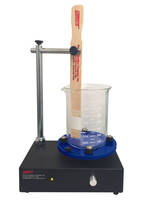 Accommodating up to 4 in. dia containers, MX-440101 eliminates hand mixing variation by operating at continuous rate and does not require any cleanup. Semiautomatic mixer, designed for facilitated installation and operation, uses gentle motion that does not introduce air bubbles into mixture and ensures complete mixing. Variable speed (up to 60 rpm) knob accommodates different liquid viscosities up to 30,000 Cp.
---
Original Press Release:

Introducing the New Lab Resin Mixer



Easiest Way to Mix Small Batches of Viscous Liquids with No Cleanup



The Lab Resin Mixer is the easiest way to mix small batches of viscous liquids and needs NO CLEANUP. Especially suited for small batches of messy resins, thick liquids. Just start mixing and walk away!



The Lab Resin Mixer saves time wasted by hand mixing. It is simple to install and operate. Semiautomatic mixing with the Lab Resin Mixer provides many advantages over hand mixing:



• Eliminates variation by always mixing at the same rate

• Gentle mixing does not incorporate air bubbles into your mixture

• Complete mixing assured because fatigue, boredom and impatience of hand mixing is eliminated

• Any container size up to 4 inch diameter

• Consistent mixing same speed every time

• Variable speed knob for different viscosities. Up to 60 RPM

• Item No. #MX-440101



Operation is easy: simply tighten your container in the adjustable chuck. Then secure a wood stick in the stick-holder-arm and turn on the speed knob to desired speed. When mixing is complete, simply throw away the stick. No other cleanup is necessary.



Mixes high viscosity liquids up to 30,000 Cp. Ideal for epoxy resins or polyester resins but also used for paints, solder masks and other liquids.



Operation theory: the chuck is known as a "Longworth chuck" consists of two discs that rotate counter to each other in order to cause the grips to move inwards to tighten on the container. The mixing stick interrupts the fluid movement and this turbulence causes the contents to mix.

More from Electronic Components & Devices