Kwikset Announces Compatibility of Smartcode Door Locks with Crestron Control Systems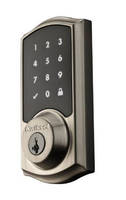 SmartCode™ Locks Can Now Be Seamlessly Integrated Into Crestron Control Systems That Provide Home Control of Lighting, Security, and More



LAKE FOREST, CA – Kwikset, the leader in residential security, announces that two of its popular SmartCode™ deadbolt locks are now "Crestron Connected®," making them compatible with Crestron control systems that provide wireless home control of lighting, shades, temperature, security and more.  SmartCode locks with Home Connect™ technology are the industry's leading wireless access control lock solution for the smart home.



Using embedded Creston infiNET EX® wireless technology, the Kwikset SmartCode deadbolt locks with Home Connect can receive commands and even communicate with other devices through the Crestron control system.  As a result, homeowners can lock and unlock doors from anywhere in the house using a Crestron touch screen or a mobile device.  They can also control the lock remotely, from anywhere in the world, using the Crestron mobile app for Apple® and Android™ devices.



The Kwikset SmartCode deadbolt locks that now integrate with the Crestron system include the highly popular SmartCode™ 914 Touchpad Electronic Deadbolt, with its best-in-class reduced interior size, and the SmartCode™ 916 Touchscreen Electronic Deadbolt, which provides all the features of SmartCode  – including keyless entry – combined with the added convenience and enhanced aesthetics of a capacitive touchscreen.  The SmartCode 916 also offers a Secure Screen™ feature that helps guard against "smudge" attacks.



"We are thrilled to bring Kwikset's SmartCode line, with its innovative features and functionality, to our portfolio of Crestron Connected™ devices," said Steve Samson, Crestron Director of Business Development.  "With its powerful combination of convenience, security, and innovative design, the SmartCode lock can play a central role in any Crestron Connected smart home."



"Our innovative SmartCode deadbolt locks are a natural fit for Creston's home automation solution," said Keith Brandon, divisional vice president of Residential Access Solutions for Kwikset.  "One of our principal goals in growing our SmartCode deadbolts line is to partner with the most respected companies in the home automation arena. We're definitely accomplishing this goal with our new Crestron partnership."



Other features of Kwikset's SmartCode locks with Home Connect technology include: Kwikset's patented SmartKey® Re-key Technology, that allows homeowners to re-key their locks in seconds without having to remove the lock from the door; BumpGuard™ technology that protects homeowners from lock bumping; the ease of one-touch locking; and the ability to integrate with the widest variety of wireless security and home automation platforms in the industry.



About Kwikset

Kwikset (www.kwikset.com), the leader in residential security, manufactures and markets a complete line of door locks and door hardware, including door knobs, door levers, deadbolts, handlesets, pocket door hardware and electronic keyless entry locks for residential and light commercial applications.  Kwikset's SmartCode™ locks with Home Connect™ technology are the industry's leading wireless, access control lock solution for the smart home.



About HHI

Kwikset is part of Hardware and Home Improvement (HHI), a major manufacturer and supplier of residential locksets, residential builders' hardware and faucets with a portfolio of renowned brands, including Kwikset®, Weiser®, Baldwin®,National Hardware®, Stanley®, FANAL®, Pfister™ and EZSET®.



HHI is a leader in its key markets with #1 positions in U.S. residential locksets (Kwikset), Canada residential locksets (Weiser), U.S. luxury locksets (Baldwin), and U.S. builders' hardware (Stanley-National Hardware), #2 in Mexico residential hardware (Fanal), and #3 in U.S. retail plumbing (Pfister).  Headquartered in Orange County, California, HHI has a global sales force and operates manufacturing and distribution facilities in the U.S., Canada, Mexico and Asia.  HHI is a division of Spectrum Brands Holdings, Inc. (NYSE: SPB).



About Spectrum Brands

Spectrum Brands is a global, diversified consumer products company and a leading supplier of consumer batteries, residential locksets, residential builders' hardware and faucets, shaving and grooming products, personal care products, small household appliances, specialty pet supplies, lawn and garden and home pest control products, personal insect repellents, and auto care products.  Spectrum Brands employs over 15,000 employees worldwide and sells to the top 25 global retailers with products in more than one million stores representing 160 countries.



About Crestron

For more than 40 years, Crestron has been the world's leading manufacturer of advanced control and automation systems.  Our solutions are built on a validated architecture, using best-in-class technology that integrates unified communications, AV presentation, lighting, and environmental systems.  Crestron streamlines technology, improving the quality of life for people in corporate conference rooms, hotels, classrooms, auditoriums, and in their homes.  Our products are backed by more than 90 fully-staffed offices that provide 24 x 7 x 365 sales, technical, and training support across the globe.  In addition to its World Headquarters in Rockleigh, New Jersey, Crestron has sales and support offices throughout the U.S., Canada, Europe, Asia, Latin America, and Australia.  Discover the world of Crestron by visiting www.crestron.com.



More from Machinery & Machining Tools