Kurt Workholding to Introduce New 5-Axis Vises and Expanded Line of Small Machine Table Workholding at IMTS 2016 Booth #W-2423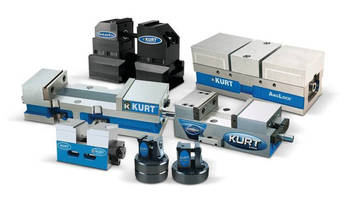 Minneapolis, Minnesota: Kurt IMTS 2016 exhibit will feature new expanded DoveLock™ 5-axis workholding line including two new models.  Also featured at IMTS, the Kurt exhibit will include the comprehensive small machine table lineup of 20 options for machine tables measuring 16 inches and under in the Y-dimension.



Kurt DoveLock dovetail 5-Axis vise line is expanded with a new reverse model and smaller foot print model. DoveLock provides up to 4,000 lbs. of precision clamping force, holding parts without distorting the work-piece while providing easy access to 5 sides of the work-piece. DoveLock dovetail holding feature requires only 1/8-inch of material height to hold the part. The dovetail feature simplifies work-piece material preparation so that no machined jaws are necessary. All DoveLock 5 axis vises are manufactured from a high quality 4140 steel.



Kurt's exhibit also will include an expanded small machine table workholding lineup  ranging in size from a 5.00-inch length up to a 15.500-inch length vise. Models are available in single station, double station, and self centering styles to accomplish an ideal holding solution for a wide variety of part configurations and density. Manual and hydraulic options are available to suit the requirements from short to high volume production.



Clamping force for this Kurt workholding line ranges from 1,800 lbs. of force up to 12,600 lbs. and is dependent on the model selected and whether manual or hydraulic actuation is  utilized. Many additional features encompass the line including Machinable Jaws, Hard Jaws, and many of Kurt's well known features such as the AngLock™ and Pull-type features -- all designed to reduce jaw lift and create the most rigid and immobile work piece solution.



All Kurt vises are manufactured in Kurt's employee-owned USA plant. Quality is further ensured by Kurt's lifetime Iron Clad™ warranty for workmanship and materials.



For more information and a FREE brochure contact Steve Kane, call in USA and Canada, 1-877-226-7823. Outside USA and Canada, call 1-763-574-8309. Email: workholding@kurt.com



See at www.kurtworkholding.com Kurt Manufacturing Company, Industrial Products Division, 9445 East River Road NW, Minneapolis, Minnesota 55433. In USA, Fax 1-877-226-7828. Outside USA, Fax 1-763-574-8313.

 

More from Fluid & Gas Flow Equipment