Kurt Hydraulic Clamping Systems & Hydraulic Pumps Ideal for High Production Machining Operations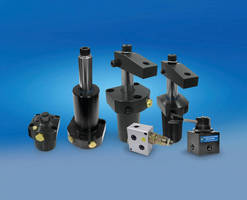 FREE New 20-Page Catalog – Call 1-877-226-7823



Minneapolis, Minnesota: Kurt's Hydraulic Clamping Systems speed the part clamping process in machining centers with accuracy and less effort. These Kurt Systems locate and clamp workpieces in seconds for high precision repeatability while increasing machine output



This new Kurt product line provides a wide range of Swing Clamps, accessories and hydraulic pump options for configuring the right workholding system for a single machining center or a multi-pallet cell with multiple machines. Machining center users and fixture builders need to evaluate hydraulic clamping because these systems are designed to increase productivity and reduce labor costs and scrap while improving part quality. Here's how: Kurt Swing Clamps – Swing And Clamp In One Continuous Motion



Kurt's single cylinder Swing Clamps provide from 475 lbs to 6000 lbs clamping force with a maximum pressure of 5000 PSI. With the flip of a switch, Kurt's single cylinder design actuates both the swing and clamping cycle in one continuous automatic motion. No physical effort needed for the clamping.  And directional change of the swing clamp motion is easily made with a push/pull feature turning the clamping head left 90° or right 90°.



Available in upper and lower flange and threaded body mounting styles for added flexibility, Kurt Swing Clamp design features include:

• Cylinder bodies HRC 38 – 46 hardened tool steel with polished inner surfaces to      ensure long operating life up to a million cycles.

• Pistons that are hard chromed and polished for maximum wear resistance and smooth piston operation. They are heat treated to HRC 60 – 63 to reduce abrasion and for maximum wear resistance.

• Guide rods with guide slots that reduce clamp stress while promoting smooth operation and longer life.

• Pins HRC 38 – 40 heat treated for extra pin strength. 



Electric and Pneumatic Pump Options For A Variety Of Applications



Kurt's KHP5000 Hydraulic pump is electrically powered and well suited for operation when standard shop air is not easily accessible. The KHP5000 pump can also be installed in CNC Shuttle Pallet systems as it features a "dump load" capability for when pallets pressure lines are not attached. Also available in Kurt's pump lineup are the models KHP5000PF and KHP5000PH, which are two compact pneumatic pump models for single acting clamping systems. Available in either a foot or hand controlled model, these pumps provide reliable pressure from 500 to 5000 PSI and affordable price point.



"Hydraulic clamping is fast becoming an important process to maximize productivity of new and existing machining centers," reports Steve Kane, Kurt's global sales and marketing manager. "Kurt's line of Hydraulic Clamps, Valves and Pumps make productivity improvements easy at moderate cost."



For more information and a FREE new brochure on Kurt Swing Clamps and Hydraulic Pumps, call in USA and Canada, 1-877-226-7823. Outside USA and Canada, call 1-763-574-8309. Email: workholding@kurt.com 



Or download the Hydraulic Clamping Systems Catalog: http://www.kurtworkholding.com/downloads/brochures.php



Kurt Manufacturing Company, Industrial Products Division, 9445 East River Road NW, Minneapolis, Minnesota 55433. In USA, Fax 1-877-226-7828. Outside USA, Fax 1-763-574-8313.







More from Electrical Equipment & Systems