Kurt Features Its Newest Workholding Devices at EASTEC 2013, West Springfield, MA - Booth 5130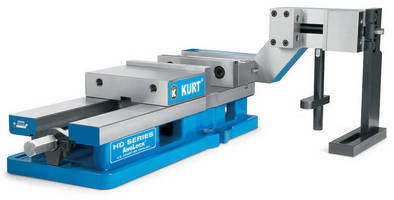 Minneapolis, Minnesota: Kurt's expanded lineup of advanced workholding products for improved machining productivity will be featured at EASTEC 2013 Booth 5130, May 14-16th.

New Kurt SideWinder(TM) For Second Operation Machining

Kurt's New SideWinder(TM) Vise provides vertical workholding for second operation machining in the same setup by easily mounting to the back of all Kurt industry standard 6-inch vises.

The SideWinder vise is ideal for all types of machining operations, including precision boring, tapping, drilling and finishing with accuracy on most part configurations. The SideWinder vise has a robust 80,000-PSI ductile iron body. Additional features include integral bracket with stabilization feature allowing mounting to the machine table on the movable end of the vise, and a workstop to allow vertical positioning of the part. The elevated position allows for longer reach machining that does not interfere with the operating envelope of the host vise. Featuring the original Kurt Anglock® design for decreasing jaw deflection, the new SideWinder vise distributes clamping force evenly and precisely across the full jaw surface.

See Kurt's Expanded HD690 Vise Line

Kurt's Pull Type HD690 vise line is now available in standard and reverse jaw models and in manual and hydraulic versions. These vises feature a full 9-inch jaw opening, a wide stationary jaw, a taller body that produces less deflection, and a Quick Change movable jaw. The hydraulic model has a ¼" stroke. All models feature the Kurt Anglock® design, which prevents parts from lifting upwards under heavy clamping loads. Now combined with the "pull-type" design that reduces stress under load, these models provide the ultimate in workholding rigidity and accuracy.

See Kurt's Expanded 3400 Ultra Precision Vise Line

Small machining center users will find Kurt's Model 3400 Versatile Lock® vise line is a great new way to add versatility, accuracy, and capacity to their operations. With a full 6-inch jaw opening, these new Kurt vises have 0.0005 inch clamping repeatability with the enlarged workholding area. Featuring the time-proven Anglock® design, these vises prevent parts from lifting upward under heavy clamping loads. The "pull-type" jaw clamping design reduces stress under load.

Available in manual and hydraulic models, both are also available in reverse style models. All models feature robust, one-piece vise bodies and stationary jaws machined of 80,000-PSI ductile iron, providing greatest strength while reducing vibration. They can be mounted on both sides and have matched stationary jaw to keyway including body height of ±0.001 inch.

Kurt is an employee owned company that specializes in gauging systems, custom engineered workholding, with a full line of vises and workholding products. Kurt has expanded its web store and offers its full line of products online with free shipping in the contiguous United States.

For immediate information, visit the Kurt website: www.kurtworkholding.com, or call in USA and Canada, 1-877-226-7823. Outside USA and Canada, call 1-763-574-8309. In USA, Fax 1-877-226-7828. Outside USA, Fax 1-763-574-8313. Email: workholding@kurt.com Kurt Manufacturing Company, Industrial Products Division, 9445 East River Road NW, Minneapolis, Minnesota 55433.

More from Mounting & Attaching Products