Krueger Sentry's Level Gauges Now Come with Glass Tops That Eliminates Discoloration and Cloudiness
Press Release Summary: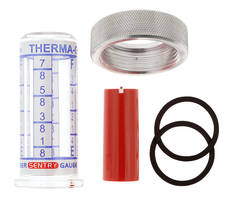 Glass Solid Glass Gauge Display is designed for Krueger Sentry Type D at a Glance Direct Reading Gauge, Type H Therma Gauge, Type K at a Glance Leak Gauge and Type OF Overfill Alert Gauges. Units are resistant to sun damage, heat, weathering and chemical fumes. The glass tops are designed to withstand chemical conditions such as acids, caustics, high ethanol E85 and Bio Diesel.
---
Original Press Release:
New Glass Tops Available for Krueger Level Gauges
Krueger Sentry, a reputable US manufacturer with over 65 years' experience, producing over 3 million level gauges, is introducing a new solid glass gauge display. The glass gauge top offers the same or better physical durability as the original plastic tops, while offering better reisistance to:
Sun damage
Heat
Weathering
Chemical fumes
and more… 
The new glass gauge top eliminates the discoloration and cloudiness that can sometimes occur plastic gauge tops. It will not warp with heat or sun exposure. Solid glass gauge tops are more durable than plastic when exposed to aggressive chemical conditions such as acids, caustics, high ethanol E85, Bio Diesel, etc.
Krueger Sentry is proud to currently offer this glass top option on four models. 
Type D At A Glance Direct Reading Gauge
Type H Therma Gauge
Type K At A Glance Leak Gauge
Type OF Overfill Alert Gauge.
The oldest most reliable mechanical gauge on the market just got better. As always, Krueger Sentry tank gauges and all the components used on our tank gauges are produced by us or by other American Manufacturers. When shopping for gauges that are Made in the USA, and comply with the Buy American Act, shop Krueger Sentry Gauges at ksentry.com.
Contact This Company Download Spec Sheet
More from Test & Measurement