KPS-MCC C0G Capacitor comes in 0.55 square in. footprint.
Press Release Summary: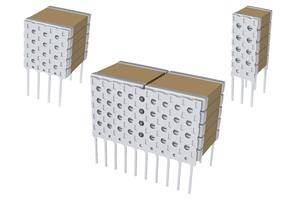 KPS-MCC C0G Capacitor is suitable for down-hole oil exploration, automotive and hybrid electric vehicles, defense and aerospace applications. Unit is operated at temperature up to 200 °C and comes in three case sizes with straight pin, L or formed J configurations. Product's case comes with silver or solder coated termination finish. Capacitor provides voltages up to 2,000 V and capacitance up to 2 microfarads. KPS-MCC C0G offers high insulation resistance and low ESR.
---
Original Press Release:
KEMET Introduces KPS-MCC C0G High Temperature 200 Degree Celsius Bulk Capacitance Solution for Harsh Environment Applications
KEMET Corporation (NYSE:KEM), a leading global supplier of electronic components, today announced the launch of the KPS-MCC C0G High Temperature 200 Degree Celsius bulk capacitance solution for harsh environment applications. Developed by combining KEMET's robust and proprietary C0G/NPO base metal electrode (BME) dielectric system with durable lead frame technology, these capacitors are ideal for demanding high temperature, high voltage and high vibration applications such as down-hole oil exploration, automotive and hybrid electric vehicles (HEV), defense and aerospace.
The KEMET C0G BME dielectric system is designed to provide high reliability at operating temperatures up to 200 degrees Celsius, while maintaining high insulation resistance, very low ESR and very high ripple current capability at high frequencies. In addition, this series provides superior stability with no capacitance change versus DC voltage and ±30 ppm/°C capacitance change over temperature. A high melting point (HMP) solder for lead attachment enables multiple chips to be stacked in parallel to provide bulk capacitance with excellent mechanical robustness. Superior electrical performance, high reliability, and mechanical robustness of KEMET's BME C0G dielectric results in a preferred solution over Class II (X7R/X5R) capacitors above 175 degrees Celsius.
Available in three case sizes, the KPS-MCC series offers voltages up to 2,000 V and capacitance up to 2 microfarads in a footprint of less than 0.55 square inches. Each case size can be ordered in a straight pin, formed "L," or formed "J" configuration and with a silver (Ag) or solder coated (SnPb) termination finish.
"This latest addition to KEMET's world-class BME C0G offering extends KEMET's portfolio up to 2 microfarads in a Class I solution," said Dr. John Bultitude, KEMET Vice President and Technical Fellow. "With KEMET's temperature-cycling resistant lead frame technology and high ripple current capability, these bulk capacitance solutions provide unparalleled performance for the harshest environments on, under and above the Earth."
For more information, please visit http://www.kemet.com/Hi-Temp-Ceramic.
About KEMET
KEMET Corporation is a leading global manufacturer of electronic components that meet the highest standards for quality, delivery and service. The company offers its customers the broadest selection of capacitor technologies in the industry across all dielectrics, along with an expanding range of electromechanical devices, electromagnetic compatibility solutions and supercapacitors. KEMET's corporate headquarters are in South Carolina; the company also operates manufacturing facilities, sales and distribution centers around the world. KEMET's common stock is listed on the NYSE under the symbol "KEM." Additional information about KEMET can be found at www.kemet.com.
More from HVAC