Kortec to Display New Multilayer Thin-Wall Food Container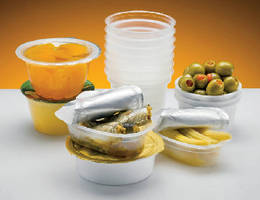 New Shapes, Styles of Thin-Wall, High-Barrier Food Packaging Containers to be Displayed

K 2010, Dusseldorf, Germany, - Hall 13, Stand D59

Ipswich, MA USA... Kortec Inc. will display new shapes and styles of high barrier, thin-wall multilayer food containers at K 2010 fair in Dusseldorf, held October 27-November 3. The company will be exhibiting in Hall 13, Stand D59.

In addition, Kortec will display its multilayer color gradation technology (MCGT) for the first time at K. This technology allows for molded-in color aesthetics to be added to clear PET bottles.

Broadening Applications for Thin-Wall Multilayer Food Packaging Containers

This new multilayer molding technology was first introduced by Kortec in 2009. Since then demand for these types of containers has soared, leading the company to develop numerous new shapes and styles of containers for packaging different types of foods.

"We have continued to develop our thin-wall multilayer packaging technology," said Russell Bennett, Kortec Vice President of Sales & Marketing. "It is ideal for virtually any type of food application, including retortable market segments. With our development of new shapes of containers, we continue to broaden our product offerings and provide an attractive alternative to glass, metal cans and thermoformed plastic containers."

In addition to obvious advantages over glass (no breakage, reduced weight) and metal (reduced weight, more modern aesthetics), advantages of these containers over thermoformed plastic packages include higher quality aesthetics, faster filling line speeds, better part-to-part consistency, and longer product shelf-life.

Multilayer Color Gradation Technology

The new Kortec MCGT (multilayer color gradation technology) being displayed at K allows for molded-in color aesthetics to be added to the typically clear PET bottle. The new technology is receiving much interest from brand owners producing waters, sparkling beverages and liquors.

These bottles can be produced with or without a barrier layer, according to Russell Bennett, Kortec Vice President of Sales & Marketing. The multilayer bottles are produced of 3 layers of plastic; inner and outer layers of clear PET with a colored barrier layer of EVOH or other material. "The colored layer can be adjusted for color intensity depending on the application," he said. "It allows for very attractive decorative alternatives to the clear PET bottle."

About Kortec

More than a co-injection machine or component supplier, Kortec is a "Total Solution" provider. The company partners with clients to provide customized, turnkey systems for each specific application. After initial consultations with the customer to determine the best container solution for their product, Kortec engineers and technicians build, assemble and optimize an entire molding cell at the customer's facility. Kortec manages the entire project, including customer training and continued technical support.

Kortec's three-layer technology combines PET or PP with the latest barrier and oxygen scavenging resins. Such barrier multi-layer containers offer far superior gas barrier performance over a monolayer container, thus providing superior shelf life of the product. Typical applications that benefit from this process are beverages such as natural fruit juices, tea, carbonated soft drinks, and beer, as well as retorted/hot filled foods such as fish, tomato-based sauces, fruits, vegetables and pet food.

Kortec is the world's largest supplier of turnkey co-injection systems to the plastics and packaging industries. The company's systems are used throughout the world to produce high-barrier multi-layer containers featuring three-layer construction that optimizes clarity and strength while maximizing the shelf life of the end-use products.

More from Architectural & Civil Engineering Products