Kopter SH09 to Feature AMETEK PDS Power Distribution, Starter Generators and GCU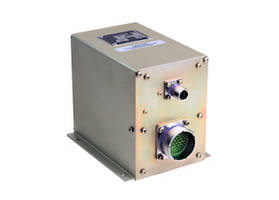 HARLEYSVILLE, PA (October 7, 2020) – Kopter Group AG, a Leonardo company, has selected AMETEK PDS to provide the Power Distribution Unit, Starter Generator and Generator Control Unit for their next generation single-engine SH09 helicopter. Due to its large and easily reconfigurable cabin, the versatile SH09 is perfectly adapted to a wide range of missions, including passenger transport, medical evacuation, utility and law enforcement.
An AMETEK PDS Power Distribution Unit (PDU) will manage the helicopter's primary power from the generators and batteries, distributing it to the main power buses and circuit breaker panels while integrating communications from the Generator Control Unit (GCU), and Control Panel System. The lightweight PDU provides critical circuit protection to safeguard the system and loads from dangerous faults.
Each PDU is designed with a fail-safe design philosophy that provides a default operating mode that permits the application of battery and generator power to the appropriate loads. This ensures that power is maintained for essential and emergency buses.
Additionally, a PDS Starter Generator will provide the power generation and engine start functions for the SH09. The rugged Starter Generator is designed with enhanced brushes and bearings for greater reliability and offers maximized output at low speeds for optimal fuel savings.
Engine start and power regulation from the Starter Generator is controlled through a complementary PDS Generator Control Unit. The lightweight GCU offers the SH09 triple-redundant overvoltage protection, enhanced built-in-test capability and has been designed with an innovative, patented technology that delivers proprietary soft charging for superior battery life.
To learn more about commercial off-the-shelf and custom engineered AC/DC Power Distribution and Power Generation systems from AMETEK PDS, visit www.AmetekPDS.com.
About AMETEK PDS
AMETEK PDS is a leader in the design and manufacturing of integrated power generation and solid-state power distribution systems, starter generators, DC motors, linear and rotary actuators, data concentration, fans & blowers, and cockpit instruments for business jets, regional and commercial transport, helicopters, military aircraft, and unmanned aerial vehicles.
PDS is a business unit in the Aerospace & Defense Division of AMETEK, Inc. a leading global manufacturer of electronic instruments and electromechanical devices with annual sales of approximately $5.2 billion.
For more information, contact AMETEK PDS, 343 Godshall Drive, Harleysville, PA 19438. Phone: 316-522-0424. E-mail: [email protected]. Web: www.AmetekPDS.com.
About Kopter Group
Part of Leonardo (through its Helicopter division), Kopter is set to become a Centre of Excellence for new light helicopters and an incubator of new technologies; also contributing to the development of new hybrid and electrical propulsion systems. The single-engine, turbine-powered SH09 now under development will outperform its peers with increased modularity, modern electronic systems, and a larger cabin and cargo hold. The SH09 delivers latest safety standards, more performance and comfort at low operating costs. Kopter's 320 talented team members are primarily based near Zürich, Switzerland – with corporate/engineering offices at Wetzikon, and manufacturing facilities in the towns of Mollis and Näfels. Kopter has an additional facility in Lafayette, USA and also in Munich, Germany where the company is focusing on Engineering and Research & Technology activities.
Contact: Cory Lippert, 267-933-2145, [email protected]