Kontron Is M2M Partner of Deutsche Telekom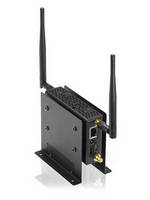 Partnership with a worldwide leading network operator and service provider for telecommunications underlines Kontron's strategic investments into the M2M market



Eching, Germany – Kontron today announced its cooperation with Deutsche Telekom. The goal of this partnership is the promotion of Kontron's M2M solutions. The M2M partnership with one of the world's leading network operators and service providers extends Kontron's marketing and distribution channels, and underlines its strategic investment to provide embedded computer-based solutions for the huge multiplicity of industrial grade M2M applications.



"Fleet management and video surveillance, as well as distributed outdoor digital signage systems and NFC advertising boards, are only a few of the numerous vertical markets towards which our industrial grade M2M solutions are targeted. Being a cooperation partner of the Deutsche Telekom will help us to get accelerated access to OEMs from these various vertical markets," said Claus Giebert, Kontron's Product Manager for M2M solutions in Europe. "A close partnership with the network operators is also important for improving our own M2M services: The 'Internet-of-Things'– or telemetry in other words – needs a high-availability infrastructure and an appropriate quality of services. Think about distributed energy management systems, for example. Only in partnership with worldwide leading network operators and service providers for telecommunication such as Deutsche Telekom we can ensure this for our customers."



For distributed systems requiring cellular network connection, Kontron offers the matching industrial grade nodes to connect the terminal devices to the cloud applications and the Internet-of-Things. A part of Deutsche Telekom's developer propositions is the Kontron M2M Smart Services Developer Kit: It offers scalable processor performance and includes all the required drivers and protocols and highly flexible configuration options in terms of applications and operating systems.  Beside this flexibility the platform convinces R&D engineers with its pre-qualified set-up for mobile network operators. The system has a PTCRB certification and is approved for use in cellular networks. This saves customer's R&D time as well as costs because it streamlines the process of carrier approval and their own certifications before the application can be launched on a carrier network. The kit's 802.11a/b/g/n WLAN (Wireless Local Area Network) and 802.15.4 WPAN (Wireless Personal Area Network) support a rapid development of applications with local wireless connectivity. Cellular network connection to the cloud applications is offered with pre-installed 3G WWAN (Wireless Wide Area Network), which can be extended for redundant configurations via a second PCI Express 3G.4G module. Even face-to-face communication is possible with the optional extension of a smart video and audio module. With its modular approach of the well-proven production-ready COTS Small Form Factor Platform, the Kontron M2M developer kit enables OEMs and smart services developers as well as independent software suppliers (ISVs) to reduce development costs and risks, and ensures a rapid introduction to the market. 



About Kontron

Kontron is a global leader in embedded computing technology. With more than 40% of its employees in research and development, Kontron creates many of the standards that drive the world's embedded computing platforms. Kontron's product longevity, local engineering and support, and value-added services, helps create a sustainable and viable embedded solution for OEMs and system integrators. Kontron works closely with its customers on their embedded application-ready platforms and custom solutions, enabling them to focus on their core competencies. The result is an accelerated time-to-market, reduced total-cost-of-ownership and an improved overall application with leading-edge, highly-reliable embedded technology.



Kontron is listed on the German TecDAX stock exchange under the symbol "KBC". For more information, please visit: http://www.kontron.com/.



Media Contacts



EMEA

Norbert Hauser

Kontron

Tel: +49 (8341) 803-0

norbert.hauser@kontron.com



Americas

Richard Pugnier

Kontron

Tel:+1 (858) 623-3006

richard.pugnier@us.kontron.com



All rights reserved. Kontron is a trademark or registered trademark of Kontron AG. All other brand or product names are trademarks or registered trademarks or copyrights by their respective owners and are recognized. All data is for information purposes only and not guaranteed for legal purposes. Subject to change without notice. Information in this press release has been carefully checked and is believed to be accurate; however, no responsibility is assumed for inaccuracies.

More from Agricultural & Farming Products